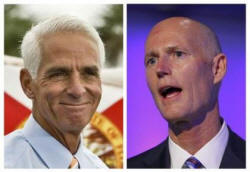 All eyes on governor's race in Florida primary, turnout is key
Send a link to a friend Share
[August 26, 2014] By David Adams

MIAMI (Reuters) - When voters go to the polls in primary elections across Florida on Tuesday most attention will be focused on the race in November for the state's governor's mansion, shaping up to be one of the most contested - and expensive - in recent memory.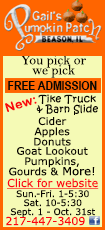 The outcome of Tuesday's Republican and Democrat primaries is a foregone conclusion with incumbent Rick Scott and his main Democratic challenger, former Governor Charlie Crist, forecast to win by wide margins.

The race between Scott and Crist in November is expected to be one of the nation's most closely watched races because it offers Democrats a rare chance to unseat a Southern Republican governor. The last time Democrats won the Florida governorís race was in 1994, when Jeb Bush narrowly lost to incumbent Lawton Chiles.

Scott and Crist, who was a Republican when he served as governor from 2007 to 2011, are in a virtual tie in polls and already engaged in a blistering TV ad campaign bashing each otherís records on everything from taxes to jobs, education and energy policy.

Scott faces two primary contenders who offer no threat, while Crist has refused to debate a stronger challenge from his main rival, Nan Rich, former minority leader in the Florida Senate.


Rich has tried to paint Crist as a Democrat-in-name-only highlighting his record as a Republican-turned-independent-turned-Democrat instead of a dependable liberal. But one poll released by the company St Pete Polls last week found Crist opening up a 50-point lead over Rich (69 percent to 19 percent), a wider margin than when Crist entered the race last November.

ďThe question is how well (Crist) does in a Democratic primary, having just become a Democrat. He spent the vast majority of his lifetime as a Republican,Ē said Peter Brown, assistant director of the Quinnipiac University poll.

Turnout on Tuesday could be a good indicator of how things might go in November, said Lance deHaven-Smith, a political science professor at Florida State University in Tallahassee.

"Even though it's not much of a contest you get a good sense of what the core vote looks like down the road," he said. "If it's low that would not be good for Crist," he added, noting that Democrats usually lose in Florida when turnout is low.

[to top of second column]
"Republican voters pay more attention and are more intense," he said.

Crist has a huge financial advantage over Rich. The state's last finance report, as of Aug. 21, shows Crist reported $14.5 million, while Rich raised $665,699.

The Rich campaign recognizes the spending gap, focusing instead on volunteer organization to get out the vote, and Crist's past as former longtime Republican legislator, state attorney general and governor.

Meanwhile, the Republican effort to retain control of all statewide elected offices is flush with cash.

Last week the Scott campaign and the pro-Scott Letís Get To Work political committee announced combined fundraising totals of almost $42 million since Jan. 1, 2013. The Republican Party of Florida reported another $53 million.

(Additional reporting by Letitia Stein in Tampa, Zachary Fagenson in Miami and Bill Cotterell in Tallahassee; Editing by Bill Trott)
[© 2014 Thomson Reuters. All rights reserved.]
Copyright 2014 Reuters. All rights reserved. This material may not be published, broadcast, rewritten or redistributed.