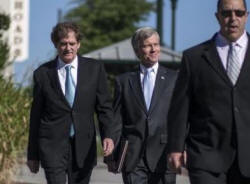 Prosecution gives closing argument in trial of Virginia ex-governor, wife
Send a link to a friend Share
[August 30, 2014] By Gary Robertson

RICHMOND Va. (Reuters) - Former Virginia Governor Robert McDonnell and his wife knew that a wealthy businessman had lavished gifts and loans on them to get political favors, a prosecutor said on Friday during closing arguments of the couple's corruption trial.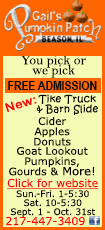 Prosecutor David Harbach II said that McDonnell and his wife, Maureen, hid from their closest aides and advisers the fact that they had received $177,000 in loans and gifts from dietary supplement entrepreneur Jonnie Williams Sr.

"Bob McDonnell knew exactly why Jonnie Williams was showering his family with loans and gift and so do you," Harbach told the jury of seven men and five women in U.S. District Court.

McDonnell, a Republican, and his wife face a 14-count indictment charging they accepted luxury gifts and sweetheart loans from Williams in exchange for promoting his company and its main product, the anti-inflammatory Anatabloc.

Harbach, the deputy chief of the Public Integrity Section at the U.S. Justice Department's Criminal Division, said McDonnell's testimony that Williams never asked him for anything did not hold up.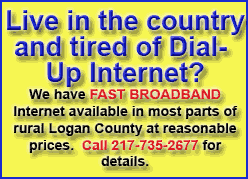 He said the McDonnells repeatedly had worked on Williams' behalf, such as staging a launch of Anatabloc at the governor's mansion.

Harbach touched on some of the instructions that the jury might receive from Judge James Spencer.

"Bribery is bribery whether or not the public official performs the act or agrees to do so," he said during a nearly two-hour summing-up of the prosecution's case.

Defense attorneys contend the prosecution has to show that Williams received a significant benefit from his gifts and loans.

[to top of second column]
They also say the McDonnells could not have been involved in a conspiracy because their marriage was in shambles and they rarely saw or talked to each other.

McDonnell has testified that he had only performed routine courtesies for Williams, the chief executive of Star Scientific Inc, and that Williams had never specifically asked him to do anything.

Defense lawyers also were scheduled to make their closing arguments on Friday.

If the McDonnells are convicted of all charges, they could be sentenced to 20 years in prison and face hefty fines. McDonnell's term as governor ended in January.

(Reporting by Gary Robertson; Editing by Ian Simpson, Doina Chiacu and Eric Beech)
[© 2014 Thomson Reuters. All rights reserved.]
Copyright 2014 Reuters. All rights reserved. This material may not be published, broadcast, rewritten or redistributed.