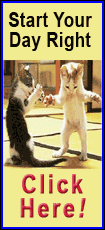 Last Friday, at the behest of Atlanta Public Library Director Bill Thomas, a producer of the movie, Dan Kolen, traveled from Chicago to Atlanta to give a dinner lecture about his duties as one of the producers of the movie. A sizeable crowd attended the Atlanta Public Library/Palms Grill Café lecture.

An Iowa native, Dan Kolen brought extensive experience in the movie industry to the production of "Dead Draw."

In college Kolen designed his own major, which was called independent documentary production. It was clear early on that film was his passion.

After college while living in Chicago, he was having a drink one evening in a bar trying to figure out how to get financing for a documentary he wanted to make about an illegal immigrant who had been living in Rockford. The immigrant had been apprehended and deported back to Mexico. Kolen tried the usual sources to obtain the $10,000 he needed to produce the film. Quite by accident, a former classmate of his wandered into the bar and as they caught up, Dan mentioned his financing woes for the movie, including the fact that he had hit up his parents to help out. They declined. The friend thought about it for a few minutes, and then was so taken with the concept of the project he agreed to secure the money. And, as the saying goes, the rest is history.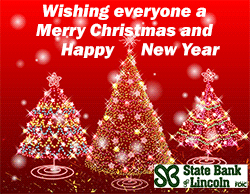 Dan Kolen made his documentary about the deportee, including going to Mexico for filming and interviews. The movie was sold and appeared on CNBC. He has since made documentaries about organized crime in Chicago, street gangs in the city, and a death row inmate. All of these movies have made it on CNBC and the Public Broadcasting System for nationwide viewing.

Kolen got the financing for his first documentary seemingly by accident after encountering a former classmate in a bar. How he became involved with an independent movie called "Dead Draw" follows a similar arc. Kolen lives and works in Chicago. It is a small market for movie making and projects are few, unlike Los Angeles and New York. So he supplements his movie making income by working as an independent director for Chicago ad agencies.

One day Kolen went to begin a job with a Chicago company as a director when he encountered another acquaintance who was a full time employee. The friend mentioned he had a movie idea about a bank robbery gone terribly wrong. He asked Dan if he would be interested in becoming part of the project as a producer. Once again, a member of his Chicago network presented Dan Kolen with another opportunity.

Kolen explained to the gathered audience at the Palms dinner that most large movie projects from major studios have many producers, each of whom specializes in one area, usually taking that focused area of expertise from movie to movie, never getting the opportunity to try something different.

The producers who are gathered together for an independent movie like "Dead Draw" are fewer in number and have to use skills that cover many areas. The reason for this is that "Dead Draw," an independent film with no major studio backing, had to be made on a limited budget.

"Dead Draw" is known in the movie trade as a Screen Actors Guild low budget film, one that will be made with a budget of less than $200,000. SAG is the union that represents those who work in the industry. "With a limited budget every penny counts," said Kolen. Kolen, considered an associate producer on the project, had to wear several hats, as did the other eight producers, who represent a fraction of those who would work on a major studio backed film.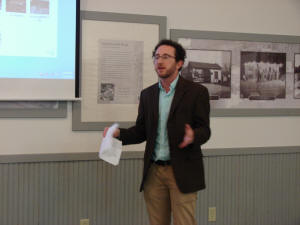 Dan Kolen enjoying himself
talking about making "Dead Draw."
"It was a fun experience for me. I got to do all sorts of jobs as a producer to help get the film made. I was fully engaged during the entire production process," Kolen said.

When the term "low budget film" is used all sorts of negative connotations may come to mind including amateur scripts, actors with no talent , and hand held cameras purchased at the local big box store. All of this could not be further from the truth concerning "Dead Draw."
The script, which was completed in August 2013, was done by a first rate screenwriter. The crew of forty in charge of filming, sound, special effects, make-up, and wardrobe were all experienced, very talented and sought after members of the movie making community with lots of serious film projects behind them. The eleven cast members have had major roles in movies and on television, and are very busy with their careers.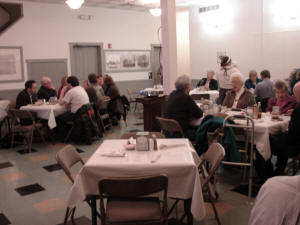 The Palms Grill Café lecture series drew
a large audience Friday evening.
So how could a limited budget movie like "Dead Draw" attract to Atlanta and Lincoln, small towns in the heart of the country, the very best talent that is available nationally to work for much less than their normal compensation?

Dan Kolen had a surprising and enlightening answer to that question. It comes down to one word, 'fun.' It seems that the movie industry slows down at the beginning of the year, and very talented professionals have some time on their hands to take on projects that they want to do, not work they have to do. "These small budget movies are their passion projects, movies that intrigue them, and they want to do regardless of the pay. The scripts are fascinating and the filming locations just draw them in," said Kolen.

So when the word went out about "Dead Draw," that asked the best young professionals in the industry if they would want to participate in a low budget movie to be filmed on location in central Illinois during January, a January that would prove to be one of the most bitter months in memory, the producers of the movie received a resounding "YES" from the selected cast and crew! Many of them lived in warm and sunny southern California, and yet they were willing to travel to Illinois during the heart of winter.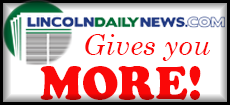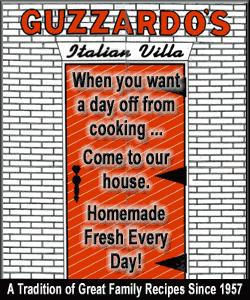 Kolen then went on to discuss the three segments of producing a movie, pre-production, production, and post-production.

Pre-production involves coming up with a concept, writing a screenplay, gathering a cast and crew, finding a location to film, and most important, securing funding. The producers of "Dead Draw" went about funding their movie with a combination of private sources: those who believed in the project, and also crowd funding on the internet. The producers circulated a Power Point story board to the money people to get the story line of "Dead Draw" out. "People who invest in films do so because they believe in the project. If they get their money back and something on top of that, they consider it a good investment. Most private investors are canny enough to know that they may receive nothing for their investment. They just want to be part of the project," said Kolen.
Asked why "Dead Draw" came to Logan County to film, Kolen mentioned two reasons. The script called for a bank robbery and then an escape by airplane, so they needed a bank and an airport. After doing some research and reaching out to Bill Thomas of Atlanta, they found the perfect spot. The Atlanta National Bank would stand in as the target of the thieves, and the Logan County Airport would provide the escape route as the robbers carried their stolen twenty million dollars on the lam.
Pre-production of the movie? Check!

The actual production of "Dead Draw" on location was another matter. Because of their limited budget, Dan Kolen and the producers had to get busy and contact people in Lincoln and Atlanta to see what help they could expect. "Every penny counted in the production, down to monitoring every gallon of gas for the budget," said Kolen. Much to their pleasure, the movie crew was given the red carpet treatment in Logan County.
The Atlanta National Bank agreed to be "robbed" one night. The Heritage-in-Flight Museum hangar at the Logan County Airport was made available for filming. Use of an airplane was provided by Kevin Lessen and John Berker. Lincoln College provided a dormitory to house the cast and crew. "The dorm was a great benefit because we filmed at night, and when the sun started to come up, we all trooped back to the dorm sometimes at 4 a.m. to get some sleep. We got in while folks at a motel would be getting their last few hours of sleep, so with the dorm we didn't bother anyone," said Kolen.

One unique aspect of the production phase of the movie is that it was filmed almost entirely at night. The script called for the majority of the action to take place at night. Actually filming at night was a major cost saver because night scenes filmed on a set somewhere would have been too costly. "Filming at night outside in January with snow on the ground made for some fantastic footage," said Kolen. "We couldn't have achieved that effect indoors. It was a gift," he added.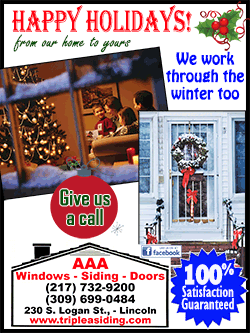 But filming at night had its own difficulties. Kolen, as a producer, had to make sure that the cast and crew were safe given last January's frigid temperatures. He also was tasked with wrangling (his term) the members of the production, getting them where they needed to be.

The filming went on for eighteen days, with six days of filming and Sunday off each week during the process. During filming, the producers also had to insure that everyone was paid on time, and that the requirements of the Union, the Screen Actors Guild, and the insurance policy for the film were strictly followed. The production went off on schedule, and there were no injuries or illness.

Production of "Dead Draw" on location under harsh winter conditions at night and on budget in Lincoln and Atlanta? Check!

Post-production

Once the filming was completed, the movie moved into the post-production phase. "Post-production is where the movie is actually fixed, meaning no further changes are made," said Kolen.

The movie was filmed using two cameras running simultaneously in different locations on the set. In post-production, all of the raw footage is edited to make the final movie. Along with film editors, special effects have to be added, audio has to be adjusted, and finally a score has to be added.

For "Dead Draw", a nationally recognized composer will write a unique score for the movie. "We have to give the composer a fixed movie or parts that are completed for the score to be composed. Even a change of a half-second in the movie will cause problems with the sound, special effects, and music," he said.

Once the movie is completed, 'in the can' in movie lingo, it will be given to another team of producers whose task is to show it to movie distributors and at film festivals. The movie needs to be seen by the movie industry in hopes that it will be deemed a marketable show. The more screens it is shown on, the better the chance of it moving into the mainstream.

Post-production of a movie about a bank robbery gone terribly wrong, the murder of the pilot, the robbers then being trapped in a hangar at an airport by unknown outside forces and filmed in central Illinois during the winter? A work in progress with a tentative 2015 completion!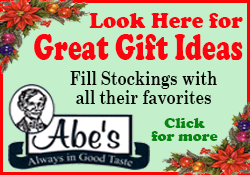 Dan Kolen was asked two final questions at the Palms Grill lecture. What was your most frustrating moment while filming, and what has been your most exciting moment?

When asked the first question, Kolen could not restrain a laugh. "You only want one frustrating moment? I guess if I had to choose one, it would be the amount of legal paperwork I had to handle to get the movie made. No, wait; there was also the stress of keeping everything on schedule so that what little money we had would take us through to the end. Oh, and dealing with movie insurance companies and SAG. I can't just name one," he finally admitted.

As to his most exciting moment, well this was an easy one for a committed movie maker. "I finally got to see the first scene that was filmed, a tracking shot down the aisle of a church. When I saw that, I knew we had something special. I got really excited," he said. It was in that moment all of the frustration receded and the real reason for making movies emerged, the excitement of seeing the tangible evidence of making a movie on screen.

Movie producer Dan Kolen wanted to make one final point about filming "Dead Draw" in Atlanta and Lincoln, small town middle America. "One of the things I found fascinating about this experience was to see the interaction between the movie crew and actors, many of whom come from Los Angeles and Chicago, and the people of Atlanta and Lincoln. It was a chance for big city folks to live and work in small town middle America, and for folks from small towns to meet and work with big city folks from the movie industry. It was a wonderful experience for all of us, and could not have gone better," he said.

[Curt Fox]