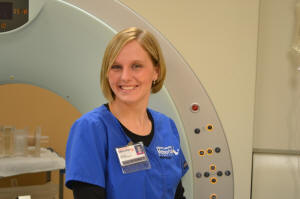 Tracy Curry Named ALMH Employee of the Month
Send a link to a friend Share
[December 17, 2014] LINCOLN - Tracy Curry of Lincoln has been named the December employee of the month at Abraham Lincoln Memorial Hospital in Lincoln. Curry began her career at ALMH in high school working part-time in the medical records department and has now worked as a Radiologic Technologist at ALMH for 10 years.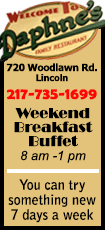 Curry earned an Associate's of Applied Science from Illinois Central College in Peoria and began work at ALMH immediately following graduation. Radiologic Technologists must have a certificate in radiology that meets the standards of the American Registry of Radiologic Technologists (ARRT). Curry has also earned certificates in Mammography (M) and Computed Tomography (CT).

As a Radiologic Technologist, Curry's daily work includes imaging the human body from head to toe and from the inside out. She enjoys the opportunity to use her knowledge and expertise in a way that can help someone through a difficult time, set them on a path to treatment and hopefully wellness. While she acknowledges that the work can be demanding and stressful, she says that it is very rewarding and satisfying.
"There are days our hearts break and days we rejoice. I love my job, I love my patients, and I love giving myself to my patients, their families and to ALMH."

Curry was nominated for Employee of the Month by a grateful patient who appreciates Curry's consistently professional and pleasant work ethic.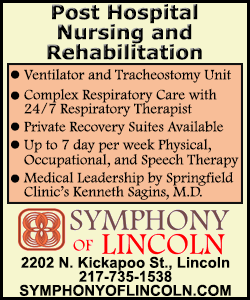 "While my experience at ALMH has always been great and all the staff are awesome. I'd like to thank one particular employee. Tracy Curry! She always gives me the best of herself whenever I'm there. She's attentive to my needs, always has a smile, cares for me as a person, and provides me with the best patient experience possible, even though the reasons I'm there are not favorable. It is employees like her that keep me coming back to your hospital for all my healthcare needs. Kudos to ALMH and a huge thanks to Tracy," said the patient.

ALMH is a 25-bed critical access hospital located at 200 Stahlhut Drive in Lincoln, Illinois and is an affiliate of Memorial Health System. ALMH employs over 310 in a variety of roles. For more information about ALMH, visit ALMH.org.
[Angela Stoltzenburg, Abraham Lincoln Memorial Hospital]