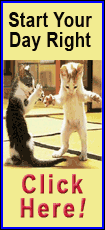 The installation, which can be seen on the second floor, across from the public elevators, stretches across six large window panels and features a variety of flowers, leaves, hummingbirds and of course, five doves. It was commissioned by Lincoln residents Barbara and Alan Kline.

Barb is a 40-year veteran of ALMH and Alan, now retired from Lincoln Christian University, is a frequent volunteer. On his numerous daily trips to the second floor to escort a discharged patient, he was always disturbed by the stark brightness of a reflective white roof that greeted those exiting the elevators. As patrons of the arts, the Klines had a vision to create a more attractive and calming space to greet visitors and patients. They also wanted to donate something to the new hospital to honor Curt, Carrie, Steven and Joshua Schleich, their daughter and her family.

The Klines sought out Alexander, a Lincoln native and a state of Illinois juried artisan, to design and build the piece. He was given artistic freedom for the concept and final design, which incorporates 25 different colors and textures against a background of sky-blue privacy glass.

The dedication ceremony Jan. 27 celebrated the generosity of the Klines and the artistry of Alexander. ALMH Chaplain Robert Henderson presided over the dedication.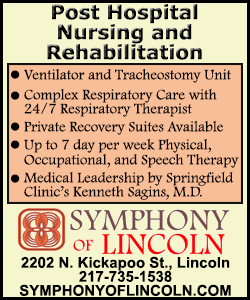 The stained glass has been a welcome addition to the hospital.
"Every day when I get off the elevator and see the stained glass, it makes it a better day," said Kristen Green, M.D., of Springfield Clinic, who practices obstetrics and gynecology at ALMH. "It's a beautiful piece."
For information about the Abraham Lincoln Healthcare Foundation, call 217-605-5006 or visit www.almh.org.
[Text from file received from Abraham Lincoln Memorial Hospital]