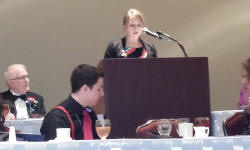 Mount Pulaski High School student wins Illinois VFW Voice of Democracy scholarship competition

Send a link to a friend
[February 11, 2014] MOUNT PULASKI — Madison Haley, a senior at Mount Pulaski High School and daughter of Jeff and Tricia Haley of Chestnut, won the 2013-2014 Illinois Veterans of Foreign Wars Voice of Democracy scholarship contest. Saturday evening in a packed ballroom at Springfield's Crowne Plaza Hotel, she was awarded $3,000 for her winning essay: "Why I'm Optimistic About Our Nation's Future."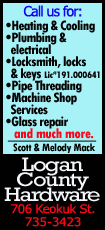 Her essay was chosen as the best from all of Illinois' 18 VFW districts. This was the first time Mount Pulaski VFW Scroggin-Gee Post 777 and VFW District 10 has had a champion Voice of Democracy student during all the years since 1947, when this annual high school contest was initiated by VFW's national headquarters in Kansas City, Mo.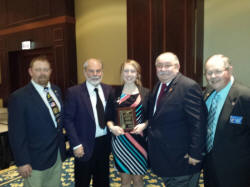 Left to right:

Matt Willis;

VFW 10th District commander; Phil Bertoni, Mount Pulaski VFW Post 777 quartermaster; Madison Haley; Roger Bates, Post 777 commander; Vince Long; VFW 10th District quartermaster
Knowing that a democratic society needs nurturing, the VFW established the Voice of Democracy competition in 1947 to "provide students grades 9-12 the opportunity to express themselves concerning democratic ideas and principles."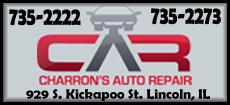 All of the student participants in the Illinois state essay competition were invited for a Friday evening reception, dinner and overnight lodging, followed by Saturday's breakfast and then a bus tour of Abraham Lincoln sites in the Springfield vicinity.
Each year, nearly 40,000 high school students from across the country, along with VFW Europe, VFW Asia and others, enter to win a share of the $2.2 million in scholarships and incentives awarded through the VFW's Voice of Democracy audio-essay competition, with scholarships ranging from $1,000 to $30,000. The first-place champion from each state or regional VFW department wins an all-expense-paid trip to Washington, D.C., where the overall champion will be revealed in March. The national first-place winner will receive a $30,000 scholarship paid directly to the recipient's choice of American university, college or vocational-technical school.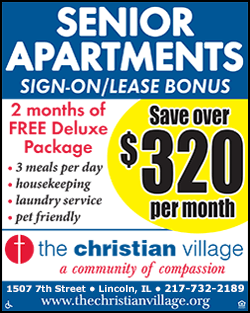 Students were required to submit their essay by Nov. 1, 2013, both in typed-written and CD-recorded formats. The recording had to be between three and five minutes.
Jordan Luczaj, also a senior at Mount Pulaski High School, was runner-up to Madison in the local Mount Pulaski Scroggin-Gee Post 777 competition in November.
After the announcement of the state winner, Madison was asked to read her essay. All attendees gave her a long-standing and enthusiastic ovation.
The Illinois VFW state commander, Matthew Mihelcic, later remarked that the "imagery used by Madison made her words stand out even better!"
Madison's grandmother, Mrs. Shirley Haley, added afterward that she was so pleased to see her granddaughter win such a prize, as "Maddy has been writing essays since the third grade — something she loves doing so very much!"
For a copy of Madison Haley's first-place essay in the Illinois VFW competition, click here (PDF).
[Text from file received from Phil Bertoni, Mount Pulaski VFW Scroggin-Gee Post 777 quartermaster]