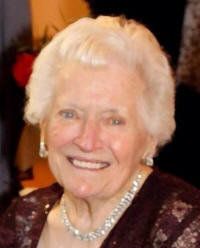 Jeanne Handlin
[February 12, 2014] LINCOLN ó Jeanne Louise Handlin, 88, of Lincoln, died Tuesday, Feb. 11, 2014, at 3:44 a.m. at St. John's Hospital in Springfield.
(Below is a copy of the obituary from the funeral home.)
___
LINCOLN-Jeanne Louise Handlin, 88, of Lincoln, passed away at 3:44 a.m. February 11, 2014 at St. Johnís Hospital, Springfield, IL.
Jeanne was born October 19, 1925 the daughter of George M. Keller and Edna Matthews Keller. Her mother died when she was 3 and her second mother was Catherine Schaeffer Keller. She grew up in Chicago and Oak Park, Illinois. She graduated from St. Catherine of Sienna High School and then from Knox College where she met her husband Daniel William Handlin, Sr. from Lincoln. They were married on October 23, 1948. They spent most of their life together in Lincoln where he was a lawyer and she was a teacher. Her teaching career spanned many decades first in Mt. Pulaski and then in Beason where she taught for 27 years. She was an innovative educator who loved teaching and her students.
Jeanne is survived by sons: Daniel (Nancy) Handlin, Jr. (a pilot) of Marion, Montana; Bill (Donna) Handlin of Houston, TX (a teacher); daughter: Patricia Jeanne (Flint) Handlin Taylor of Chicago, IL (a lawyer); four Grandchildren: Michelle Handlin, Jennifer Ray (Marty), William Handlin (Gracey); Kate Taylor; one great grandchild: Maya Ray; and three sisters: Margaret, Rita, and Mary Catherine. She was preceded in death by her parents, two brothers, George and Joseph, and her beloved husband who died in 1984.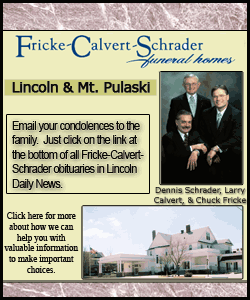 She adored her friends and family and received special joy with her grand-children and great grand child. She traveled extensively, going to China, England, the Caribbean and within the United States. Jeanne, with her husband, was a founding member of Lincoln Youth Football and Commissioner for many years. They were also founding members of the Lincoln High School Football Booster Club and the Baseball Booster Club. She was a founding board member of Lincoln Community Theatre.
She was a devout Catholic throughout her life and a member of Holy Family Church where she served on various church committees and supported Carroll Catholic School. She was also a member of the American Legion, Knights of Columbus and Retired Teachers Association. She was a generous woman who lived her life with grace and humor.
A visitation will occur from 4:00 PM to 7:00pm on Friday, February 14, 2014 at Fricke-Calvert-Schrader Funeral Home in Lincoln. The funeral Mass will be held at 10:00 a.m. on Saturday, February 15, 2014 at Holy Family Church with Rev. Jeffrey Laible officiating. Burial will be in Holy Cross Cemetery, Lincoln, with a reception to follow at noon at the Knights of Columbus Hall. A Rosary service will be held at 3:30 p.m. Friday at Fricke-Calvert-Schrader Funeral Home, Lincoln.
In lieu of flowers, memorials may be given in memory of Jeanne to Holy Family Church or Carroll Catholic School.