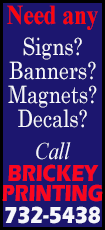 Rental includes utilities, cable TV, Internet, a landline telephone and weekly housekeeping.
The Lifeline medical alert system also is available, as is Medicare Part B therapy ordered by a doctor.
"If you have reservations about going home from the nursing home or hospital, or you need a temporary place to stay while family is away, let us be your short-term haven," suggests Julie King, director of independent living.
"We have daily activities and a caring staff available to you," she added.
For more information, contact King at 732-5013 or 737-5839.
[Text from file received from Christian Village]