The dinner will be served starting at 5 p.m. at the American Legion Home, 110 W. Court St., just two blocks away. At the Arlee, doors open at 6 p.m. and the show begins at 7 p.m. The dinner and show will be by donation, with proceeds to help pay down the loan on the Arlee's new state-of-the-art digital projector.

Ron Knollenberg will serve as the show's emcee and preside over the auction. Items going on the auction block include four Cubs-Cardinals tickets donated by DarPro; lunch for two at First Wok; local photographs and artwork by Holly Birch Smith, David and Annette Hull, and Gaye Koeppen; an area rug donated by Jake's Furniture; a commemorative 50th anniversary Disney "Fantasia" poster donated by Zoe Worner; and the Arlee's Elvis standee.
Benefit producers Carol Armour, Laura McClure and Amy Avart have a stellar lineup for the show with headliners Benny Boyd, Rod and Quaid Lusher, The Well skit team, Duncan McClure, Cameron McClure, Joan Swaar, Chris Avart, Noah Kirby, Prairie Aires, Gold Guys Group, Blake "Elvis" Swaar, Amy "Tina Turner" Avart and more. Patti and Greg Deener and their band will provide the grand finale.
For those who want to relive the night, DVDs of the evening will be available for purchase as well.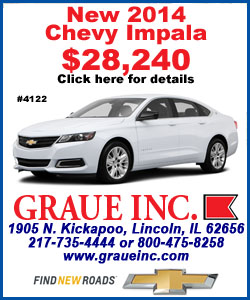 Mason City IGA has been hired to cater its fried chicken, roast beef, cheesy potatoes, green beans and assorted desserts at the Legion prior to the show. Donations can be given at either venue.
The $43,000 projector upgrades were needed for the nonprofit venue to remain open, and about 75 percent of that balance has been gathered so far through fundraisers and donations from generous Arlee friends, allowing the Arlee to hold down their family-friendly prices. The new equipment was installed in December and has no rivals in central Illinois. Viewers notice the greatly improved sound and image now offered at the Arlee and agree it is the best around.
Come for the meal, come for the program or enjoy both.
[Text from file received]