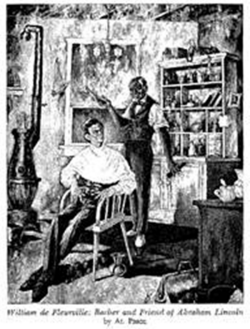 Lincoln Presidential Library tells the story of 'Billy the Barber'
Send a link to a friend
[February 18, 2014] SPRINGFIELD — One was a Haitian-born barber with a flair for self-promotion. The other was a poor young lawyer with plenty of ambition. They both wound up in Springfield in the 1830s, developing a friendship that stretched all the way to the White House.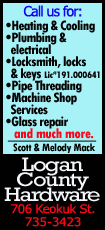 The Abraham Lincoln Presidential Library and Museum will host a free special event Sunday to explore the little-known friendship between William Fleurville and Abraham Lincoln. Speakers will discuss Fleurville's life, the legal system during Lincoln's time and African-American history in Springfield.

The event also includes a sketch about Fleurville's life by Glennette Tilley Turner, the author of an upcoming biography of the man known as "Billy the Barber."

"The Barber and the President" begins at 2 p.m. in the library's multipurpose room. To reserve a ticket, visit http://bit.ly/BillytheBarber.

Legend has it that when William Fleurville (or de Fleurville or Florville — spellings vary) arrived in the little frontier town of New Salem, he ran into young Abraham Lincoln, who advised him to set up shop in nearby Springfield.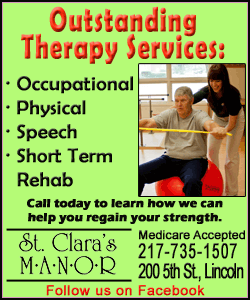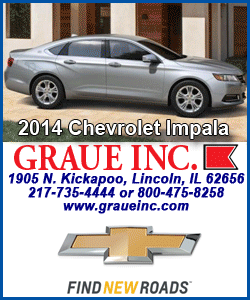 Whatever the truth, Fleurville did become a barber in Springfield and advertised himself as "Emperor and Autocrat of all the Barbers." He promised to "nullify" beards and to "resuscitate, re-invigorate and refrigerate" dirty clothes.
Fleurville served as Lincoln's barber for 24 years, and Lincoln served as Fleurville's attorney in real estate matters. When Lincoln's son Willie died in the White House, Fleurville wrote a condolence letter that included a note reassuring Lincoln's other young son that his dog was alive and well back in Springfield.
Fleurville also was an honorary pallbearer in Abraham Lincoln's funeral.
The Abraham Lincoln Presidential Library and Museum, a division of the Illinois Historic Preservation Agency, is dedicated to telling the story of America's 16th president. For more information, visit www.presidentlincoln.illinois.gov.
[Text from Abraham Lincoln Presidential Library and Museum file received from the Illinois Historic Preservation Agency]