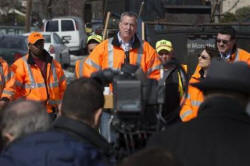 Drive as I say, not as I do? New York mayor's convoy seen speeding
Send a link to a friend Share
[February 22, 2014] By Victoria Cavaliere
NEW YORK (Reuters) — New York Mayor Bill de Blasio said on Friday he remained committed to reducing speed limits and cutting down on traffic deaths in the city, a day after a local television news crew captured his convoy speeding and ignoring stop signs.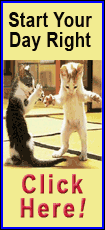 The driving incident comes after the new mayor rolled out an extensive, 63-point "Vision Zero" plan this week to tackle traffic fatalities.

His proposals include reducing many city speed limits to 25 miles per hour from 30 miles per hour, and increasing the number of speed-tracking cameras.

"Our lives are literally in each other's hands," de Blasio said in outlining the plan on Tuesday on Manhattan's Upper West Side, where three pedestrians were killed last month.

De Blasio's caravan was filmed by a crew from WCBS-TV driving up to 15 miles per hour above the speed limit and blasting past two stop signs as the mayor sat in the passenger seat of the lead car.

De Blasio's transportation and security is provided by the New York City Police Department. The motorcade was captured making the questionable traffic moves after de Blasio attended an event to speak about road safety and pothole repairs, WCBS-TV said.

At a press conference on Friday afternoon, de Blasio refused to take questions about the driving incident, saying he remained "committed to safety" and his ambitious new traffic safety proposals.

He also said he was "very comfortable" with remarks made by New York City Police Commissioner Bill Bratton, who told reporters on Friday he had seen the video of de Blasio's motorcade and was not "overly concerned by what I saw in the sense of the speed issue that was raised."

The police issued a statement saying officers in charge of the mayor's transportation "receive specialized training in driving, based on maintaining security as well as safety."

"The handling of police vehicles transporting any protectee is determined solely by police personnel based on their specialized training in executive protection and professional judgment," it said.

(Reporting by Victoria Cavaliere; editing by Ellen Wulfhorst and Gunna Dickson)
[© 2014 Thomson Reuters. All rights reserved.]
Copyright 2014 Reuters. All rights reserved. This material may not be published, broadcast, rewritten or redistributed.