Christian Village offers 'Almost Home' temporary apartment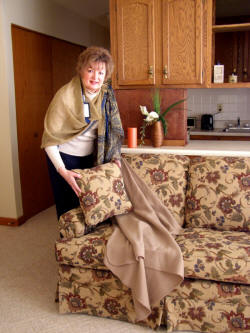 Julie King, Christian Village director of independent living, puts the finishing touches on the Almost Home apartment available for individuals needing a temporary place to stay before going home from the hospital or nursing home.
After a hospital or nursing home stay, some people are unable to return home because they can't handle housekeeping and meal preparation. To help these individuals while they're regaining their strength, The Christian Village has established an "Almost Home" apartment that can be rented by the week. (Click here for the rest of the story.)
---
Olympians of Social Security
By Becky Whitlow, Social Security district manager in Springfield
SPRINGFIELD — While the eyes of the world focus on the XXII Winter Olympics in the resort town of Sochi, Russia, this month, the Social Security Administration brings your attention to another worthy focal point: Internet safety. (Click here for the rest of the story.)
---
Can word games make us smarter?
Award-winning author shares three ways to teach kids language skills and keep elderly minds sharp
When older generations complain about reading and writing skills among today's youth, they point accusingly at technological advances, says award-winning author and college teacher Daniel L. Wick. (Click here for the rest of the story.)
---
---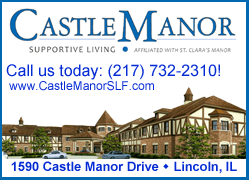 ---
Peripheral artery disease: Screening and early treatment can save your legs and your life
(BPT) — Frequent leg cramps, leg pain when walking and slow-to-heal sores on your feet are annoying, but did you know they can also be symptoms of a serious disease? (Click here for the rest of the story.)
---
Alzheimer's caregivers: Tips to take care of yourself, too
(BPT) — Taking care of an ill loved one is never easy, but for the 15 million Americans who provide care for someone with Alzheimer's disease, the emotional and financial toll of caregiving can be overwhelming. Last year, caregivers provided more than 17 billion hours of unpaid care for Alzheimer's disease patients, amounting to $216 billion of care, according to the Alzheimer's Association. They often experience emotional stress, depression, health problems of their own and a loss of wages, the association reports. (Click here for the rest of the story.)
---
Three New Year's resolutions that will enrich your retirement
Financial adviser shares steps everyone should take in 2014
For many baby boomers looking to retire in the next few years, the biggest worry is not whether or not they can retire, but if they'll outlive their savings. (Click here for the rest of the story.)
---