Middletown Presbyterian soup buffet, Herb Guild, Community Action meeting, Oasis sale of Rusty's equipment


Send a link to a friend Share
[February 25, 2014] Middletown Presbyterian Church hosting soup buffet
MIDDLETOWN — Middletown Presbyterian Church will host a soup buffet on Sunday, March 2, from 10:30 a.m. to 1 p.m.
On the menu will be vegetable beef, chili, homemade chicken noodle and cheesy broccoli soup, along with a relish tray, pie or cake, and drinks. This is an all-you-can-eat buffet. Buffet tickets will be available at the door, with reduced prices for children age 4-12, and kids under 3 eat free.

Take-home soup by the quart will also be available.
---

Herb Guild meeting Feb. 25
The Logan County Herb Guild will meet on Tuesday, Feb 25, at 7 p.m. at Faith Lutheran Church, 2320 N. Kickapoo in Lincoln.
Kim Forman will present the program, telling about the importance of herbs and spices in the dishes she serves at her restaurant, the Vintage Fare, on the square in Lincoln. She will make her homemade soup, salad and dessert to serve for the group.
Becky Blake will tell about pineapple sage as the herb of the month.
Hostesses will be Becky Blake and Carol Mills.
---

Community Action board meeting to be Feb. 27
The next regularly scheduled corporate board meeting of Community Action Partnership is scheduled for Thursday, Feb. 27, at 7 p.m. The meeting will be at Community Action's corporate offices, 1800 Fifth St. in Lincoln.
---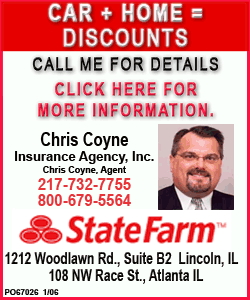 ---

Oasis to sell equipment from Rusty's

The Oasis, incorporated as Senior Citizens of Logan County, will sell equipment and accessories from the former Rusty's restaurant on-site at 2810 Woodlawn Road.

The inspection and bid process will be two days: Monday, Feb. 24, from 9 a.m. to noon and Tuesday, Feb. 25, from 1 to 4 p.m.

Proceeds from this sale will go to assist in the redevelopment of the restaurant into the new Oasis Senior Center.
---