Dr. Dan's class, Mardi Gras at St. John, Middletown Presbyterian soup buffet, Community Action meeting


Send a link to a friend Share
[February 26, 2014] Dr. Dan's first Monday night health class
Dr. Dan Freesmeier will continue his discussion about cholesterol and the brain in his March 3 Health Concerns class at Faith Lutheran Church in Lincoln. The class starts at 6 p.m. and meets regularly on the first Monday night of the month.
Dr. Dan is open for any and all of your questions. You may learn something that could influence your health for the rest of your life.
---

Mardi Gras Chocolate Fiesta at St. John United Church on Tuesday

St. John United Church of Christ in Lincoln invites the public to celebrate Mardi Gras with them from 11 a.m. to 6 p.m. Tuesday, March 4, at the church.

Featured will be two chocolate fountains with fruit, pretzels, marshmallows and more to dip. Chili will be served for lunch and dinner (chocolate chili optional). Also available will be hot chocolate, chocolate milk, a variety of chocolate items to sample and a children's table to make chocolate creations.

There will be a cake walk at 12:30 and 4:30 p.m. and bingo with chocolate prizes at 1 p.m., 3 p.m. and 5 p.m.

A donation to Relay For Life or the Oasis Senior Center for the new roof gets you in the door for everything.

All activities and food will be in the Fellowship Hall of the church, 204 Seventh St., at the corner of Eighth and Maple streets in Lincoln.
---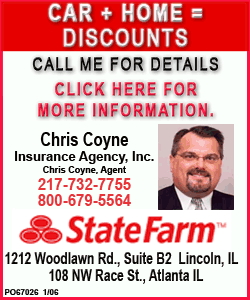 ---

Middletown Presbyterian Church hosting soup buffet
MIDDLETOWN — Middletown Presbyterian Church will host a soup buffet on Sunday, March 2, from 10:30 a.m. to 1 p.m.
On the menu will be vegetable beef, chili, homemade chicken noodle and cheesy broccoli soup, along with a relish tray, pie or cake, and drinks. This is an all-you-can-eat buffet. Buffet tickets will be available at the door, with reduced prices for children age 4-12, and kids under 3 eat free.
Take-home soup by the quart will also be available.
---