Park district notes
From Roy Logan, program coordinator

Send a link to a friend
[January 06, 2013] Are you looking for fun as you start working out in this new year? Gather up a bunch of your friends and play co-ed volleyball. The park district still has an opening for one more team, and the start of the season will be delayed by one week to give you time. The park district also has the names of a few people who are interested in playing but just don't have enough to fill a roster. If you are someone in that situation, call the administrative office between 8 a.m. and 4:30 at 732-8770 or email info@lincolnparkdistrict.com to have your name added to the list. It is possible that the sponsor fee could be divided by the number of names on the roster, making it very inexpensive for everyone. Games are played on Tuesdays at 6:30 and 7:30 p.m. The costs for this program have been the same for several years.
The park district will offer three art workshops for beginners. The first in the series will be on Saturday, Jan. 25, for high school age through adults. Artists will paint a Tuscany landscape. Enjoy this beginner's art class in painting with acrylics on a 16-by-20-inch canvas. Class will begin at 1 p.m. and is projected to end by 4 p.m. No experience is required, and all the materials will be provided for this make-and-take painting. Cost is $35 per person for district residents and $42 for those living outside the park district.

The second and third art workshops will be on Sunday, Jan. 26. Up first, from 1 to 2 p.m., is the session for children in kindergarten through second grade, and then from 2:30 to 4 p.m. the same day, lessons will be offered to third-graders through eighth-graders. The classes are designed for kids to have fun while creating. If you enjoy drawing and painting, then you'll enjoy the workshop. No experience is necessary. All the materials will be provided, and all that the children need to bring is a desire to make some awesome art. The cost for these workshops is $20/$24.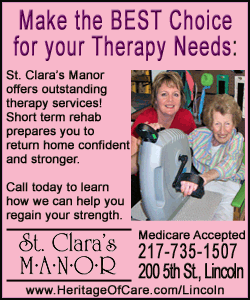 The workshop instructor will be Jodi Phillips, a local artist who has been actively painting for 10 years. Her primary focus lies in acrylics, but she also enjoys watercolors. Her artwork has been on display in the windows of the former J.C. Penney building, currently known as O'Donoghue's, and in Horsefeathers in Elkhart. She is also one of the juried artists who has been displaying and selling at the Pride of the Prairie Folk Art and Craft Show for many years.
[Text from file received from Roy Logan, Lincoln Park District]