Approximately 280 blood drives across 25 states were canceled across the U.S. due to snow and extreme cold. The blood drive cancellations resulted in a shortfall of nearly 8,400 blood and platelet donations since Jan. 2.

"It's the blood products already on the shelves that help save lives when severe weather hits," said Shelly Heiden, community CEO of the Red Cross Heart of America Blood Services Region. "Thanks to generous Red Cross blood and platelet donors, blood products were available for patients who still needed transfusions despite the weather. Now we invite those previously 'frozen out' from giving blood or platelets to come in soon."

Platelet donors, as well as blood donors with the most in-demand blood types — O-positive and negative, A-negative, and B-negative — are urgently needed to give blood in the days and weeks ahead to offset the shortfall.

Platelets, a key clotting component of blood often needed by cancer patients, must be transfused within five days of donation, so donations are constantly needed. Red blood cells, the oxygen-carrying component of blood, are the most widely transfused blood product and must be transfused within 42 days.

Upcoming blood donation opportunity in Logan County:
Wednesday, Jan. 15, from noon to 5 p.m. at Lincoln Park District sports complex, 1400 Primm Road
How to donate blood
Simply call 1-800-RED CROSS (1-800-733-2767) or visit www.redcrossblood.org to make an appointment or for more information. A blood donor card or driver's license or two other forms of identification are required at check-in. Individuals who are 17 years of age (16 with parental consent in some states), weigh at least 110 pounds and are in generally good health may be eligible to donate blood. High school students and other donors 18 years of age and younger also have to meet certain height and weight requirements.
---

Electronics recycling collection at Habitat for Humanity this Saturday
Habitat for Humanity of Logan County will have its monthly electronics recycling collection on Saturday, Jan. 11, from 9 a.m. to noon at the Habitat warehouse, 915 Woodlawn Road. The collection is offered free of charge to the public.
The Habitat for Humanity affiliate continues to collect televisions for recycling.
Additionally, the following items will be accepted:
Computer equipment, including laptop and desktop personal computers, hard drives, monitors, keyboards, printers, scanners, CD-ROM, DVD, Zip and tape drives, and cords and cables.

Entertainment equipment, including TVs, radios, stereo and game systems, game controls, VCR and DVD players, and cameras.

Small business equipment, including phones, copiers, typewriters, fax machines and calculators.

Small household and countertop appliances will also be accepted, as well as aluminum, copper, brass and stainless steel items.
Electronic equipment is not to be left at the site and is not collected outside of the hours of the collection.
Information on the electronics recycling program is available through Habitat for Humanity of Logan County by contacting the office at 217-732-6412 or by visiting.
---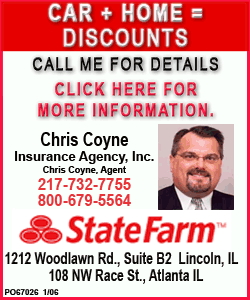 ---

Atlanta Library announces changes to January schedule
ATLANTA — The Behind the Scenes program with Bob Lupone, scheduled for Friday, Jan. 10, in Atlanta will be postponed. Watch for further updates.
This Golden Age scheduled for Tuesday, Jan. 14, at the Atlanta Public Library has been canceled.
Children's Reading and Art Night, scheduled for Thursday, Jan. 16, has been canceled.
---

ALMH welcomes first baby of 2014
Abraham Lincoln Memorial Hospital welcomed its first baby of 2014 on Friday, Jan. 3, at 12:42 p.m. Aeris Mae Ginger is the daughter of Shana and David Ginger of Lincoln. Aeries weighed 7 pounds, 13 ounces and was 18½ inches long at birth.
Shana's physician is Kristen Green, M.D., a specialist in obstetrics and gynecology with Springfield Clinic in Lincoln. Aeris is being welcomed home by three sisters and one brother. The family lives in Lincoln.
Aeris was the recipient of several gifts as the first baby of the new year. The ALMH Auxiliary presented Aeris and her family with a basket of baby care items. She received a quilt made by Friendship Manor residents and a crocheted hat from ALMH volunteer Ruby Glickerman. ALMH also presented Aeris and her family with diapers and a gift card for baby necessities.
In 2013, there were 209 babies born at ALMH, 105 males and 104 females.
ALMH's Family Maternity Suites is a state-of-the-art obstetrical center that features spacious private labor-delivery-recovery-postpartum rooms with private restrooms and showers. Each mom and baby receives individualized care. To learn more about the Family Maternity Suites or the other health care services offered at ALMH, visit www.almh.org.
ALMH, at 200 Stahlhut Drive in Lincoln, is a 25-bed critical access hospital affiliated with Memorial Health System.
---

Democrats to host special guest at January meeting
The Logan County Democrats will resume their monthly schedule of meetings for 2014 on Saturday, Jan. 11, at 10 a.m. at the Lincoln Public Library. Special guest will be Bill Houlihan, Sen. Dick Durbin's downstate chief of staff and candidate for the 18th Congressional District State Central Committee.
All Logan County Democrats are welcome and encouraged to attend this special meeting. The meetings are not closed to the public.
For more information, call Rebecca Drake, Logan County Democrat chair, at 217-796-3519.
---