[January 13, 2014]

Send a link to a friend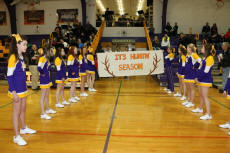 MOUNT PULASKI — Friday night in Mount Pulaski featured a battle between the little schools of Logan County as the Hartsburg-Emden Stags came into town to face the Toppers.
The Stags would draw first blood with a 2-point bucket seconds into the game, but that was to be their only lead of the night.
At half the Toppers led 18-11 and only got hotter in the third quarter, when they would extend the lead to 39-20.
By the time the buzzer sounded, Mount Pulaski had earned the 54-41 victory over the Stags, who were playing without injured senior Richard Coit. Jordan Luczaj and Brady Thomas led a very balanced Toppers attack with 13 and 12 points respectively. Austin Leonard led the Stags with 12 points.
The Toppers improved to 5-12 on the season.
Pictures by Teena Lowery