Lincoln and Logan County accident, incident and arrest reports

Send a link to a friend
[January 16, 2014] Reports posted Thursday, Jan. 16:
Accident
Jan. 12, 4:57 a.m.
Location: Decatur Street at South Hamilton Street
Drivers and vehicles:
Contributory cause: hit-and-run incident
Logan County Sheriff's Department
Dahman, Timothy R., 19, of Lincoln, arrested Jan. 16 in the 1700 block of 600th Avenue on charges of driving under the influence and leaving the scene of an accident.

Huseman, Aaron J., 26, of Lawndale, arrested Jan. 15 at his residence on charge of battery.

Stevens, Duane K., 33, of Middletown, arrested Jan. 16 in the 200 block of North Madison Street, Middletown, on charge of violation of order of protection.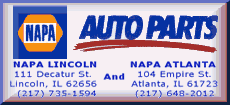 Atlanta, Elkhart, Mount Pulaski, San Jose, Illinois Department of Natural Resources, Illinois State Police, Lincoln Police Department
No arrest reports.
__
The public is reminded that anyone is presumed innocent until charges are proven in a court of law.
[LDN]
Other recent police reports