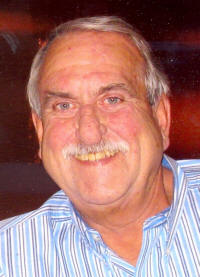 Dwain Franz
[January 17, 2014] LINCOLN — Dwain William Franz, 67, of Lincoln, died Thursday, Jan. 16, 2014, at 12:25 a.m. at Memorial Medical Center in Springfield.
(Below is a copy of the obituary from the funeral home.)
___
LINCOLN-Dwain William Franz, 67, of Lincoln died at 12:25 a.m. January 16, 2014 at Memorial Medical Center, Springfield, Illinois.
Dwain was born February 7, 1946, in Lincoln, IL the son of Henry W. and Gertrude Sparks Franz. He married Linda Funk April 27, 1969 in Lincoln at Immanuel Lutheran Church.
Surviving Dwain is his wife, Linda of Lincoln; his mother, Gertrude Munsch, of Lincoln; one daughter Delyn (Brian) Duggins of Bloomington and grandchild, Bryson; one son, Tyler Franz of Osage Beach, MO; and one sister: Janet (Marvin) Johnson of New Holland. He was preceded in death by his father and step father.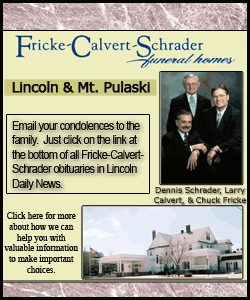 Dwain was retired from Verizon, formerly, GTE. He was a member of the Immanuel Lutheran Church, and the American Legion Post #263. Dwain enjoyed spending time at the Lake of the Ozarks, being with family and his grandson, and cooking. He served in the U.S. Army during the Viet Nam War.
Services for Dwain will be Monday, January 20 at 1:30 p.m. at Immanuel Lutheran Church of Lincoln with Rev. Greg Busboom officiating. Burial will be in New Union Cemetery with full military rites accorded by American Legion Post #263. Visitation will be Sunday, Jan. 19 from 2:00-5:00 p.m. at the Church. Memorials may be given in his name to American Diabetes Association or American Legion Post #263 or Immanuel Lutheran Church. Arrangements were entrusted to Fricke-Calvert-Schrader Funeral Home, Lincoln.