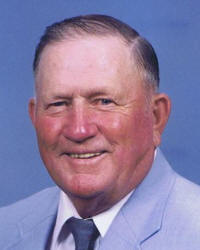 Delbert 'Deb' Gresham
[January 17, 2014] ATLANTA — Delbert H. "Deb" Gresham, 88, of Atlanta, died Thursday, Jan. 16, 2014, at 7:15 p.m. at his home.
(Below is a copy of the obituary from the funeral home.)
___
Atlanta --Delbert H. "Deb" Gresham, 88, of Atlanta, died at 7:15 p.m. on Thursday, January 16, 2014, at his home.
Funeral Services for Mr. Gresham will be held at 11:00 a.m. on Monday, January 20, 2014, at the Quiram Peasley Funeral Home. Mr. Maurice Stribling will officiate.
Visitation will be held at the funeral home from 10:00 a.m. until 11:00 a.m. prior to the funeral.
Burial will be in the Atlanta Cemetery. Military Rites will be accorded by Atlanta American Legion Post 341.
Delbert Harry Gresham was born August 29, 1925, in Atlanta, the son of Clinton and Bernice Lawyer Gresham. He married Faye Boward 68 years ago on January 29, 1946, in Lincoln. She survives.
Deb is survived by his wife; two daughters: Judy Charron of Lincoln and Debbie (Alan) Siltman; three grandchildren: Michael (Tonya) Siltman, Brian (Deb) Siltman and Shaun (Crystal) Siltman; nine great-grandchildren: Whitney, Alexis, Elijah, Izzy, Brady, Shawn, Katelyn, Supitcha and Henry; and one great-great-grandson, Gavin.
Mr. Gresham was the last surviving member of his family. He was preceded in death by his parents; three sisters: Vivian, Lucille and Mary; and four brothers: Everett, Raymond, Robert and William.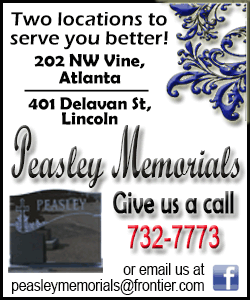 Deb was a member of the Atlanta Christian Church and Gresham-Crutchley American Legion Post 341. He retired from PPG in Lincoln after 30 years. He had worked part-time at Quiram Funeral Home, Hoblit Seed Company and HG&N Fertilizers / TipTop Farms / Tommy Young Farms.
Memorials may be made to Atlanta Christian Church or Atlanta Rescue Squad.
Final arrangements are entrusted with Quiram-Peasley Funeral Home of Atlanta.