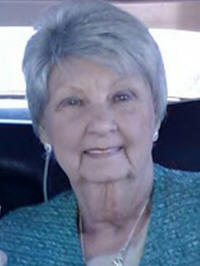 Louise Baldwin
[January 20, 2014] LINCOLN — Louise O. Baldwin, 77, of Lincoln, died Saturday, Jan. 18, 2014, at Abraham Lincoln Memorial Hospital.
(Below is a copy of the obituary from the funeral home.)
___
Louise O. Baldwin, 77, of Lincoln, passed away Saturday, January 18, 2014 at Abraham Lincoln Memorial Hospital.
Visitation will be from 2:00 PM until 5:00 PM on Tuesday, January 21, 2014 at Holland Barry & Bennett Funeral Home in Lincoln, IL. Funeral services will follow at 5:00 PM also at the funeral home.
Louise was born March 20, 1936 in Decatur, IL., the daughter of Edward and Trela (Davis) Faust. She was a member of the Master Gardeners. Louise loved flowers and tending to her garden. Her yard was beautifully displayed, especially in the summer. She had a special place in her heart for her grandchildren and great grandchildren and made sure to spend time with each of them.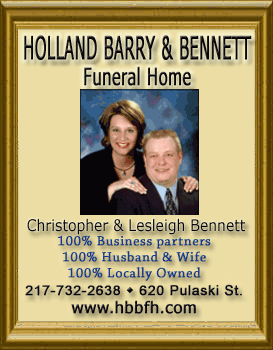 Surviving are her children Larry R. Burns Jr. of Bloomington, IL., Gail Tungate of Lincoln, IL., and Julie Keehma of Chicago, IL.; seven grandchildren: David Grant, Rachel Stapleton, Eric Grant, Elizabeth Lemmel, Sara Kiel, Michael Keehma, and Alex Keehma; thirteen great grandchildren: Alexis, Carrin, Koltyn, Lena, Kaleb, Reanna, Riley, Grace, Kayla, Emma, Trenton, Koby, and Chase; her siblings: Darlene Ernst of Mt. Zion, IL., Donna Meserole of Bathe, IL., John J. Faust of Decatur, IL., and Ruth Ann Taylor of Alabama; also surviving are a special cousin Delores Vairin of Pasadena, CA. and several loving nieces and nephews.
She was preceded in death by her parents, her son Steven Burns, her brother Donald Faust, and her significant other of 20 years Robert Elkins.
Memorial donations may be made to the American Cancer Society and will be accepted at the funeral home.