Doris Ruben
[January 21, 2014] EMDEN — Doris Juanita Ruben, 92, of Emden, died Tuesday, Jan. 21, 2014, at 10:45 a.m. at Abraham Lincoln Memorial Hospital in Lincoln.
(Below is a copy of the obituary from the funeral home.)
___
EMDEN- Juanita Ruben, 92 of Emden, IL passed away at 10:45 a.m. January 21, 2014 at Abraham Lincoln Memorial Hospital, Lincoln, IL.
Juanita was born October 14, 1921 at Casey, IL the daughter of "Jack" and Margaret Elizabeth Rohlfs Bowles. They moved to Emden, Illinois when she was two years old. She married Earl George Ruben January 1, 1944 at Emden, IL. He preceded her in death in 1999.
Juanita is survived by one daughter: Cheryl (Ron) Baker of Emden; one son: Charles (Carol) Ruben of Emden; Seven Grandchildren: Randy L. Baker of Emden; Greg Baker of Tremont; Terry Baker of Hopedale; David Ruben of Schaumburg; Kathy Ott of Effingham; Syndi Ruben of Emden; Becky Ruben of Lincoln; one sister: Margie Kay (Wayne) Detmers of Delavan; and 13 great grandchildren. She was preceded in death by her parents, husband, and one daughter: Christy Rae Ruben as an infant.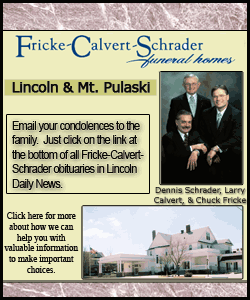 Juanita was a homemaker; member of Emden Christian Church; charter member of the Christian Nursing Home auxiliary and enjoyed volunteering there. She enjoyed reading Christian novels, making desserts, playing card games and laughing with her family.
Visitation will be Saturday, January 25, 2014 from 10:00-1:00 p.m. at Fricke-Calvert-Schrader Funeral Home, Lincoln. Services will follow at 1:00 p.m. with Ron Otto officiating. Burial will be in Bethel Cemetery. Memorials may be given to Harvest of Talents or St. Clara's Manor.