Lincoln's 58-31 win over Taylorville on the opening night of the 2014 County Market Winter Classic gave Lincoln coach Neil Alexander his 700th career victory. The best part about it was that it was a total team win, both offensively and defensively, a victory that snapped a two-game losing streak and helped the Railers continue their dominance at the mid-January tournament.

Once the final buzzer sounded, the crowd at the historic venue was given the opportunity to show their appreciation as Alexander was recognized for his achievement and was given the basketball from the game.

After the festivities, Alexander reflected on his place on the list of coaches with 700 wins.

"It starts with a system, but in that system, you've got to have a lot of things," he said. "There's no coach that wins 700 games if they don't have good players. We're blessed this year, but there's been many, many players that have played at Lincoln High School that won a lot of basketball games for us and our community. I'm just proud to be a part of the community of Lincoln."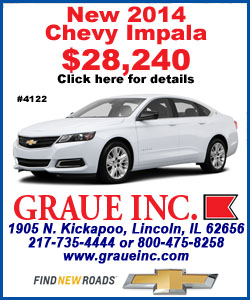 Win 15 on the season did not start out the way the Railers and their fans had hoped. After Gavin Block, who came into the game averaging over 24 points in his previous three games, tied the game, Taylorville jumped out to a 7-2 lead. Defensively, the Tornadoes tried to throw Lincoln off by playing a triangle-and-two, with the man-to-man assignments going against Block and Max Cook. It seemed that Taylorville thought if they were going to have a chance to knock off the No. 2 team in the state, then someone other than Block and Cook would have to beat them.
A 3-pointer from Cook from behind the top of the key started an 11-0 run, with Edward Bowlby connecting for two 3s in the run. Bowlby, who struggled over the weekend, paced the team with 13 points. Will Cook's two free throws ended the Lincoln scoring in the first quarter, and the Railers had an early nine-point advantage at 18-9.
A 3-pointer from long-range sharpshooter Kyle Wilhour, who had four on the night, closed the gap to four. Now, if the plan was to force the Railers (15-2, 5-1) to find other scoring options, it certainly worked, as over much of the next Lincoln run, Block and Max Cook combined for only four points. Of course, it was the other Railers who did the damage.
An offensive rebound and basket from Block started a 16-3 run. It was good to see scoring out of Adam Conrady as he hit baseline jumpers from both sides of the lane, while Joey Olden penetrated to the free-throw line, found himself open and knocked down the open 15-footer. Another 3-pointer from Wilhour put a hiccup in the run, only to see Tyler Horchem hit a pair from long range around a steal and layup from Max Cook. When Horchem's second trey went down, Lincoln had run out to a 31-14 lead. A 3 from Block sent the Railers to intermission up 34-16.
After the Lanphier and Central losses, Alexander mentioned the need for a more balanced scoring attack. Only four players scored in the whole game on Saturday, while Monday night saw seven different Lincoln players in the scoring column. It also helped that the Railers found their shooting eye by connecting for 57 percent in the first 16 minutes, while the Tornadoes (10-7, 2-50 could only manage 29 percent.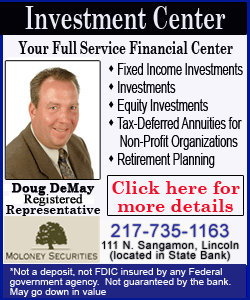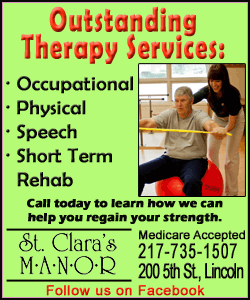 During the third quarter, the Railers were able to put the game out of reach. OK, maybe it should be called the Ed Bowlby segment of our show, as the senior scored all seven points for Lincoln, all in various ways. Whether it was scoring on an alley-oop pass from Olden, making a strong move underneath, getting the basket and converting the three-point play, or grabbing an offensive rebound and putting it back in without coming back down to the floor, Bowlby continued his solid performance on this night. At the end of three, Lincoln was up comfortably 41-24.
Since Collinsville, there have been some games when Lincoln builds a comfortable lead but then shifts into neutral. On Monday night, the Railers slowly stretched the lead. The fourth quarter started with the Cooks combining on an out-of-bounds score as Max tossed the inbounds pass to Will, who faked one way, spun and tossed the shot high off the glass. Five more in a row from Block put Lincoln up 48-24. The night was done for the starters, something that will help as the week proceeds, after playing three games over the last four days and facing another four games in the next five days.
Eleven players played for Lincoln and all 11 scored. As the game wound down, Lincoln got a baby hook in the lane from Austin Krusz, a basket from Bobby Dunovsky, and Jordan Perry's 3 from the left side rounded out the scoring.
It was light-years ahead of the performance from Saturday night, but again, shooting 47 percent while committing only five turnovers and outrebounding your opponent usually spells victory. And for Alexander, it was just another win. Something he's done 699 times before.
The balanced scoring attack was led by Bowlby's 13 points and five rebounds, while Block quietly added 12 along with six rebounds. Max Cook chipped in with seven, and Horchem scored six. Will Cook and Conrady both scored four, with three each from Perry and Ebelherr. The night's tally was completed with two each from Olden, Dunovsky and Krusz.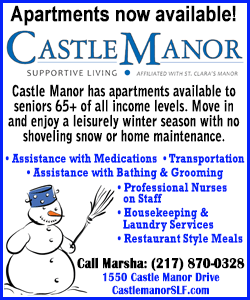 The hectic schedule continues for the Railers on Wednesday night as they take on Quincy Notre Dame on the second night of the Winter Classic. Tipoff at The Bowl is slated for 6:30.
Other scores from the opening night saw Glenwood defeat Quincy Notre Dame 58-46, and Jacksonville picked up their first conference win by defeating Rochester 35-26.
___
LINCOLN (52)
Bowlby 5-10 1-1 13, Block 5-7 0-0 12, M.Cook 2-6 2-2 7, Horchem 2-7 0-0 6, Conrady 2-3 0-0 4, W.Cook 1-2 2-2 4, Ebelherr 1-3 0-2 3, Perry 1-1 0-0 3, Olden 1-3 0-0 2, Krusz 1-1 0-0 2, Dunovsky 1-3 0-0 2. Team 22-46 5-7 58. 3-point field goals 9-24 (Block 2-2, Bowlby 2-5, Horchem 2-7, Perry 1-1, Ebelherr 1-2, M.Cook 1-3, Olden 0-1, W.Cook 0-1, Dunovsky 0-2).
TAYLORVILLE (31)
Wilhour 12, Sanders 11, Fulk 3, Langen 2, Dust 2, Champley 1. Team 11-34 5-8 31. 3-point field goals 4-16 (Wilhour 4)
Lincoln 15-19-7-17 58
Taylorville 8-8-8-7 31
[By JEFF BENJAMIN]
Click here to respond to this article.