Abraham Lincoln's birthday, Relay For Life kickoff, Kaylee Helton Benefit, LAMS Chorale rehearsals, HSLC meeting


Send a link to a friend
[January 22, 2014] Mount Pulaski Courthouse will celebrate Abraham Lincoln's birthday Feb. 8
MOUNT PULASKI — Abraham Lincoln's birthday will be celebrated on Saturday, Feb. 8, at the Mount Pulaski Courthouse State Historic Site, where Abraham Lincoln, Judge David Davis, Samuel Treat, Billy Herndon, Stephen A. Douglas and others rode by horseback and horse and buggy to bring the court of law to this Logan County seat venue (1848-1855). The Mount Pulaski two-story brick courthouse, an example of early Greek Revival architecture, is one of only two remaining structures from the once 15-courthouse Illinois 8th Judicial Circuit of the mid-1800s.
The featured speaker at 10 a.m. will be Barbara Stroud-Borth, who will portray Sarah Wakefield, a captive of Sioux Indians in the Dakota conflict in Minnesota in 1862. Abraham Lincoln became involved in the final resolution of the conflict, displaying his sense of justice.

Portrayers of Abraham and Mary Lincoln will be on hand at 9:30 a.m., when the courthouse opens with coffee and refreshments. Servings of Mary Todd Lincoln's traditional cake will be provided, along with other refreshments, until 3:30 p.m. Children's crafts and games will begin at 10 a.m. and last until 2 p.m. A variety of materials will be available for making Abraham Lincoln cards and valentines. A staff of volunteer docents will be on hand to provide tours throughout the day.

The speaker, Stroud-Borth, is a retired pastor who lives in Mount Pulaski. She did her pastoral internship on a Lakota reservation in South Dakota and served two congregations in South Dakota for 6 1/2 years. Her second parish was in southwestern Minnesota. In all those places, she learned bits and pieces of the conflict between whites and Indians and President Lincoln's involvement, even as the Civil War raged in the South. In her words: "This story is not well-known in Illinois. I want to share it here, and portraying Sarah Wakefield is a way to do that."

There will be an exhibit of some books, pictures and craft items collected during Stroud-Borth's year on the Lower Brule Reservation.

Regular visiting hours at the historic courthouse are Tuesday through Saturday, noon to 4 p.m. The phone number is 217-792-3919.
---

Relay For Life 2014 kickoff party Jan. 27
Relay For Life of Logan County will kick off the 2014 campaign on Monday, Jan. 27, beginning with a potluck supper at 6 p.m. at Lincoln Christian Church. This year's theme will be "Cooking Up a Cure," and the campaign will periodically feature health information along with the usual activities.
Rachel Ray, the American Cancer Society representative, invites all former teams, team captains and members, event or committee chairs to come and share in the planning for this year's event. Bring a dish to pass and all the ideas you can share. Sign-ups for committees will be available, and those not on a team can even start a new team.
Teams are encouraged to sign up, and team captains who have signed up by Jan. 20 will receive the new team captain T-shirts at the kickoff. The website is www.relayforlife.org/loganil or contact Carolyn Motley, 732-8032, to sign up your team.
The Relay For Life in Lincoln will be from 6 p.m. Friday, July 25, to 6 a.m. Saturday, July 26, at Lincoln College.
---

Fundraiser for Kaylee Helton on Feb. 8 at Lincoln Knights of Columbus

Donations needed for auctions

On Saturday, Feb. 8, the Lincoln Knights of Columbus Hall will host an afternoon fundraiser for Kaylee Helton.

The event begins at 3 p.m. and will last as long as people want to stay. Included in the afternoon of fun will be a pulled pork meal, live and silent auctions, live entertainment and a 50-50 drawing. T-shirts, cozies and bracelets will also be available.

Donations for the auctions are welcome and needed. People with auction items to donate are asked to contact any of the following:
Dawn McAllister, 217-737-5070

Marcy Booth, 217-737-6317

Tami Grigg, 217-737-6141

Tiffany Davidson, 217-737-9439
Admission and meal tickets will be available at the door, with the proceeds going to support Kaylee and her family as she deals with a serious illness that requires a great deal of medical attention.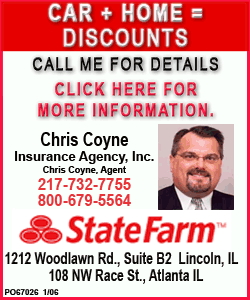 Kaylee is the daughter of Missy Helton and J.R. Eskew. Kaylee fell ill on Oct. 30, 2013, and has since been undergoing treatment at St. Louis Children's Hospital.
She has been diagnosed with primary antiphospholipid syndrome, an autoimmune disorder that causes abnormal clotting of the blood. She developed catastrophic antiphospholipid syndrome, a very rare subset of the syndrome, which caused multiple blood clots in several different organs.
While undergoing testing and treatment, she developed heparin-induced thrombocytopenia, a condition that causes blood clots and Wolff-Parkinson-White syndrome, a heart condition.
Although there is no cure for antiphospholipid syndrome, she and her family will continue to travel to and from St. Louis for treatments.
An account has been set up at CEFCU for the family. To make a monetary donation, visit any CEFCU location or mail a check to the Kaylee Helton Benefit.
---

LAMS seeks voices for spring concerts
The Lincoln Area Music Society Chorale is extending an invitation to local singers to join them for the spring semester. Singers from high school age on up are encouraged to join the group as they prepare for the spring concerts with the LAMS Orchestra. Music of many styles and eras is included.
The spring performances will be on March 29 and 30 at the Lincoln Community High School auditorium.
The LAMS Chorale meets weekly on Tuesday evenings at 7 at St. John United Church of Christ, beginning Jan. 28.
The group is growing in numbers and would love to have many more voices join them in making music.
For more information, contact Tim Searby at tsearby@heritageofcare.com.
---

HSLC general membership meeting Jan. 29
A general membership meeting of the Humane Society of Logan County will be on Wednesday, Jan. 29, at 6:30 p.m. in the Steinfort Room at Abraham Lincoln Memorial Hospital, 200 Stahlhut Drive. All committees will report to the general membership. The annual election for three seats on the board of directors of the organization will also take place at this meeting.
Anyone who is current with their dues and has been a member for at least three months prior to the election may declare their intent to seek election to the board of directors. If you are interested in serving on the board, you may send a letter of intent to the board secretary, Wanda Stevens, wstevens@ccaonline.com.
---