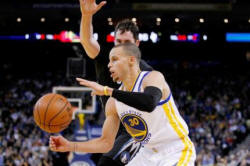 Timberwolves 121, Warriors 120
Send a link to a friend
[January 25, 2014] OAKLAND, Calif. ó Timberwolves 121, Warriors 120: Kevin Love collected 26 points, 14 rebounds and eight assists as visiting Minnesota edged Golden State.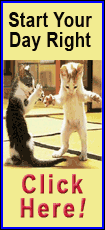 Kevin Martin hit the go-ahead jumper in the final seconds and finished with 26 points while Nikola Pekovic added 22 points and 14 boards for the Timberwolves, who won their first game decided by four or fewer points. Corey Brewer chipped in 15 points and Ricky Rubio had nine points and 12 assists for Minnesota.

Stephen Curry hit six 3-pointers and totaled 33 points and 15 assists to lead the Warriors, who have dropped five of their last seven. David Lee contributed 23 points, Klay Thompson had 18 and Andre Iguodala scored 11 of his 16 in the final four minutes for Golden State.

Love found Pekovic for a go-ahead layup with 3:36 left and converted a three-point play on the next possession to give the Timberwolves a 113-109 cushion. Brewer hit a 3-pointer on the next trip to stretch it out to a 116-111 gap before Iguodala scored on three straight possessions to cut it to 119-118 with 1:15 remaining.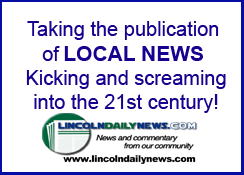 Iguodala hit two free throws with 27.4 seconds left to put the Warriors on top but Martin took a feed from Love and buried a jumper from the left side to give the advantage back to Minnesota with 8.4 seconds on the clock. Curry could not get free for the final shot and shuffled it off to Harrison Barnes, who knocked it off the side of the rim at the buzzer.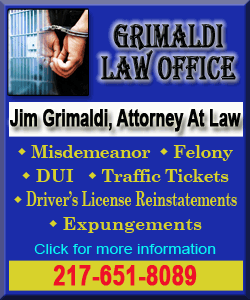 It was tied at the half and Golden State trailed by seven points just over four minutes into the third quarter but got 11 points from Curry and nine from Lee over the final 6:30 of the frame to surge to a 98-91 advantage entering the fourth. The Warriors managed one field goal in the first five minutes of the fourth as the Timberwolves battled back to tie it on Pekovicís basket with 6:52 to play.

Marreese Speights ended the field-goal drought and Pekovic responded to tie it again before Martinís 3-pointer gave Minnesota its first lead of the fourth at 107-104. Curry buried a deep 3-pointer to tie it again and found Iguodala for a bucket and a 109-108 lead with four minutes to play.

GAME NOTEBOOK: Curry leads the league with 12 games of at least 20 points and 10 assists and has 19 total double-doubles. Ö Golden State had taken the previous seven meetings from Minnesota. Ö Warriors C Andrew Bogut recorded eight points, 11 rebounds and seven blocks.
[© 2014 Thomson Reuters. All rights reserved.]
Copyright 2014 Reuters. All rights reserved. This material may not be published, broadcast, rewritten or redistributed.