Since January weather is always iffy, it will be a "sip and chat" meeting where everyone brings their favorite seed catalog, gardening ideas, tea bags or hot beverage mix to share, and a mug to drink from.

Guests welcome.
---

Ticket sales start Feb. 3 for 31st annual Spring for Tea
Sale of tickets will begin next month for the 11th annual Spring for Tea, sponsored by the Harvest of Talents for World Hunger. Marcia Bidwell, who chairs the traditional spring event for the Harvest of Talents, has announced that tickets will be available beginning Monday, Feb. 3, in the office of Lincoln Christian Church, 204 N. McLean.
Spring for Tea will be on Saturday, April 26, in the Fellowship Center of the church. Doors to the event open at 10:45 a.m., with tea being served at 11:30 a.m.
The tea features a number of colorful and uniquely appointed tables complete with china, silver and crystal and offering a variety of themes and décor. Women of all ages from the community will serve as table hostesses, both decorating the tables and graciously serving the needs of their guests at the tea.
Traditional tea foods, ranging from dainty sandwiches to cookies, fruit and other delicacies, will be served along with the traditional Spring for Tea blend of tea. Background music will provide the proper ambiance for the occasion.
Men in black will again be on hand to greet the tea guests and escort them to their appointed tables. As guests await the serving of tea, they will be invited to participate in a promenade of the beautifully decorated tables.
Following tasty food, flavorful hot tea and lively conversation, a program will be presented. Throughout the tea a number of door prizes provided by local businesses and individuals will be presented to those in attendance.
Tickets for Spring for Tea are sold in advance. Bidwell reports that there is limited seating available for the event and that tickets sell out quickly. Tickets may be purchased by visiting the church office or calling Gayla Wood at 732-7618.
Anyone interested in hosting a table for Spring for Tea or providing other assistance to the event may contact Marcia Bidwell at 732-7772.
The April tea will be the first 2014 event of the Harvest of Talents ministry, which this year will celebrate its 31st anniversary. The Harvest of Talents for World Hunger is a unique ministry of the Lincoln church. Partnering with International Disaster Emergency Service, the Lincoln Harvest has raised $1,819,213.38 through the 30th annual event, every penny of which has gone to feeding programs, orphanages and missions throughout the world, providing .physical and spiritual food to those in need. A number of Harvest events across the United States have been birthed by the founding Harvest of Talents in Lincoln and have raised over $2 million to meet hunger needs.
The 3lst annual Harvest of Talents for World Hunger will be on the fourth Saturday in October in the Fellowship Center of Lincoln Christian Church. Anyone desiring information about the Harvest of Talents ministry may call the church office at 217-732-7618.
---

Mount Pulaski Courthouse will celebrate Abraham Lincoln's birthday Feb. 8
MOUNT PULASKI — Abraham Lincoln's birthday will be celebrated on Saturday, Feb. 8, at the Mount Pulaski Courthouse State Historic Site, where Abraham Lincoln, Judge David Davis, Samuel Treat, Billy Herndon, Stephen A. Douglas and others rode by horseback and horse and buggy to bring the court of law to this Logan County seat venue (1848-1855). The Mount Pulaski two-story brick courthouse, an example of early Greek Revival architecture, is one of only two remaining structures from the once 15-courthouse Illinois 8th Judicial Circuit of the mid-1800s.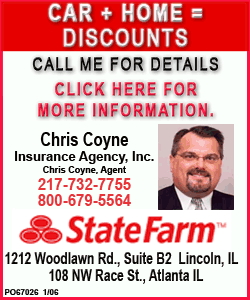 The featured speaker at 10 a.m. will be Barbara Stroud-Borth, who will portray Sarah Wakefield, a captive of Sioux Indians in the Dakota conflict in Minnesota in 1862. Abraham Lincoln became involved in the final resolution of the conflict, displaying his sense of justice.
Portrayers of Abraham and Mary Lincoln will be on hand at 9:30 a.m., when the courthouse opens with coffee and refreshments. Servings of Mary Todd Lincoln's traditional cake will be provided, along with other refreshments, until 3:30 p.m. Children's crafts and games will begin at 10 a.m. and last until 2 p.m. A variety of materials will be available for making Abraham Lincoln cards and valentines. A staff of volunteer docents will be on hand to provide tours throughout the day.
The speaker, Stroud-Borth, is a retired pastor who lives in Mount Pulaski. She did her pastoral internship on a Lakota reservation in South Dakota and served two congregations in South Dakota for 6 1/2 years. Her second parish was in southwestern Minnesota. In all those places, she learned bits and pieces of the conflict between whites and Indians and President Lincoln's involvement, even as the Civil War raged in the South. In her words: "This story is not well-known in Illinois. I want to share it here, and portraying Sarah Wakefield is a way to do that."
There will be an exhibit of some books, pictures and craft items collected during Stroud-Borth's year on the Lower Brule Reservation.
Regular visiting hours at the historic courthouse are Tuesday through Saturday, noon to 4 p.m. The phone number is 217-792-3919.
---

Relay For Life 2014 kickoff party
Relay For Life of Logan County will kick off the 2014 campaign on Monday, Feb. 3 (rescheduled from Jan. 27), beginning with a potluck supper at 6 p.m. at Lincoln Christian Church. This year's theme will be "Cooking Up a Cure," and the campaign will periodically feature health information along with the usual activities.
Rachel Ray, the American Cancer Society representative, invites all former teams, team captains and members, event or committee chairs to come and share in the planning for this year's event. Bring a dish to pass and all the ideas you can share. Sign-ups for committees will be available, and those not on a team can even start a new team.
Teams are encouraged to sign up, and team captains who have signed up by Jan. 20 will receive the new team captain T-shirts at the kickoff. The website is www.relayforlife.org/loganil or contact Carolyn Motley, 732-8032, to sign up your team.
The Relay For Life in Lincoln will be from 6 p.m. Friday, July 25, to 6 a.m. Saturday, July 26, at Lincoln College.
---

HSLC general membership meeting Jan. 29
A general membership meeting of the Humane Society of Logan County will be on Wednesday, Jan. 29, at 6:30 p.m. in the Steinfort Room at Abraham Lincoln Memorial Hospital, 200 Stahlhut Drive. All committees will report to the general membership. The annual election for three seats on the board of directors of the organization will also take place at this meeting.
Anyone who is current with their dues and has been a member for at least three months prior to the election may declare their intent to seek election to the board of directors. If you are interested in serving on the board, you may send a letter of intent to the board secretary, Wanda Stevens, wstevens@ccaonline.com.
---