Flu facts
From the Logan County Department of Public Health
Send a link to a friend
[January 30, 2014] If you are caring for someone with the flu in your home, it is important to know how to keep yourself and others in the home from getting sick as well. Keep the sick person away from other people as much as possible, especially those who are at high risk of complications from the flu.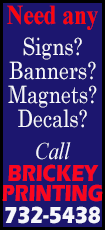 You can do this in your home by creating a sick room. Keep the sick person in a room away from common areas of the house. If you have more than one bathroom, have the sick person use one and well people use the other. Clean the sick room and bathroom daily with household disinfectant.

The sick person should not have visitors other than caregivers.

Take these additional steps to help protect yourself and others in your home from getting the flu.
Everyone in the house should clean their hands with soap and water frequently, including after every contact with the sick person.

Remind the sick person to cover coughs and sneezes and clean his or her hands afterward.

Avoid being face-to-face with the sick person. Anyone with an increased risk of severe illness from the flu should not care for the sick person.

Hold small children who are sick with their chin on your shoulder so that they will not cough in your face.

Keep surfaces clean by wiping them down with a household disinfectant.
The hours for vaccines at the Logan County Department of Public Health, 109 Third St., are Monday through Thursday, 7:30 a.m. until 4 p.m. No appointment is required.
The cost of the seasonal flu shot is $27 for adults and children with health insurance that covers vaccines, $23.75 for children 6 months through 18 years of age who have no health insurance or health insurance that doesn't cover vaccines, and free to those with a Medicaid or Medicare card.
For more information on the seasonal influenza vaccine, call the health department at 217-735-2317.
For more information, visit www.flu.gov and www.lcdph.org.
[Text from file received from the Logan County Department of Public Health]