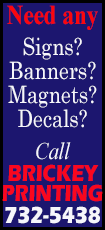 Software issue and emergency call

Dan Fulscher, Director of both the Logan County Emergency Management Agency and 911, provided information on VoIP, or Voice-over Internet Process, and a recent call to 911.

Fulscher said that on May 27th, a call was made to the 911 center by a Comcast customer. At the other end of the call, a recording informed the caller that the lines were busy, and the operator should be contacted. The caller did that after hearing the recording before calling the Lincoln Police phone number.

"When we were notified of somebody dialing 911 and receiving a recording saying all circuits are busy, and there was no 911 call going through in the county at that time, it did alarm us," said Fulscher. Fulscher said that EMA immediately began to look into the issue, and they found that Comcast operates a smaller service called TCS, which is a VoIP software company. This company provides automated number and location identification for 911 calls.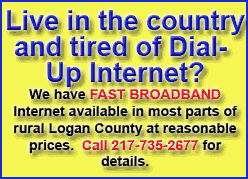 "There was a software void that every once in a while would not allow a call to go through," said Fulscher. Fulscher added that this was the first time such a problem has ever occurred, and since then several practice calls were made with the same phone number to be sure the connection is secure now.

TCS has since completed a series of software and hardware upgrades to make sure that this error does not happen again.

"Everyone was upfront and informative as to what was going on. There was no finger-pointing," said Fulscher.

Since that date, Fulscher said no such error has occurred in the county. Fuslcher has also sent letters and information to local law enforcement and emergency personnel. In addition, Fulscher said that should such a problem occur, Lincoln police and the sheriff's office can always be called in an emergency.

Fulscher also said that with a company such as Comcast, which provides television and phone service, it is always a good idea to check one service should the other go out, as there is a chance that will be the case. In addition, some of these providers perform maintenance in early morning hours, which may cause problems as well.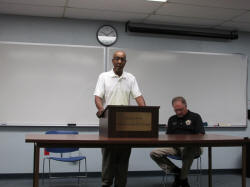 Glenn Shelton, Chairman of the Logan County ETSB, echoed Fulscher's statements. "As soon as Dan heard about this incident with one of our citizens, he called me, and we went over the problem," said Shelton. "The problem did not lie with us at all or our equipment, it was our carrier."

"We don't want anything like this to ever happen," said Shelton, who also said that this is still a great concern, even with the software upgrades.

"Our commitment is to ensure that the services provided when you call, are not only being provided efficiently and in an effective manner, but an expeditious manner," said Shelton. "We take this very, very seriously."
Water Safety

Fulscher said that with the amount of rain that has fallen so far this summer and the approaching holiday weekend, it is time to remind people of safety practices around the waterways.

Fulscher said that the waterways are already full, and over the next couple of days the water may still rise higher.

"We ask those people on the waterways to please use PFD's or commonly known as a life-jacket," said Fulscher.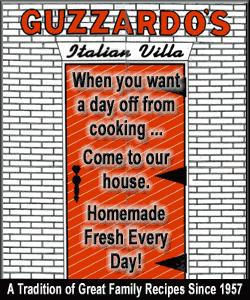 "You've heard of a designated driver, we're asking for a designated safety person," said Fulscher. Such a person should stay on the land with a cell phone in case of emergency.

Fulscher said that the waterways in Logan County have not been thoroughly cleaned in forty years, and hidden debris and undertow can become a major hazard.

In addition, due to bridge construction over Salt Creek, it takes longer for emergency personnel to find an access point into the water.

"In the last ten years, we have had four people lose their lives in the waterways," said Fulscher. Three of these incidents did involve the presence of alcohol. "There have been successful moments where we have pulled someone out just in the nick of time."

"Be aware of your surroundings, and be in a safe area," said Fulscher. "We're really asking that you be aware of that."

Fulscher also said that safety concerns apply not only to rapid-moving water, but those who utilize private lakes and ponds that can appear to be calm at first glance.

Sheriff Steve Nichols added that if water is so high that it runs over the banks, people need to stay away from the water altogether.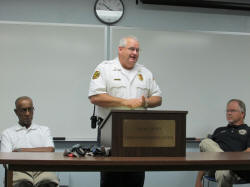 Lincoln Fire Chief Mark Miller reiterated these statements, and added officials have been measuring water levels over the past several weeks, and that water levels often need to drop before search attempts can be made.

"I know that people want to have fun and have a good time, but alcohol, and dark water, and rapid moving water is very dangerous," said Miller. Miller also said that people need to make a plan for any day near the water, and there should always be a safety person who refrains from alcohol.


"Do weather checks, watch for storms, more rain can create a problem," said Miller. "Have fun, we don't want to discourage anyone from having a good time and enjoying themselves, but you need to practice safety."

Miller also said that water sitting on pavement can be a problem, and it should also be treated with caution.

Miller repeated that due to the bridge construction, emergency response has to find other areas to access water. Miller said that there have been moments in which the EMA has had to find entry in Middletown or Mason City if necessary.

"With all of the rain we have had, sometimes just getting access down to the creek is very difficult," said Miller.
[By DEREK HURLEY]