3rd Annual Mount Pulaski Street Fest sets the stage for a great homecoming
Send a link to a friend Share
[July 03, 2014] MOUNT PULASKI - Mount Pulaski held its 3rd Annual Courthouse Washington Street Fest last Friday evening, featuring John Schlitt, recently retired lead singer of Petra. Schlitt performed at full-bore in front of many of his MPHS and MPGS classmates and several hundred on-lookers that were enjoying Hilltop Catering's knockwurst and pulled-pork sandwiches, Calm Creek Cafe's desserts, United Methodist cool treats and American Legion Post 447 libations.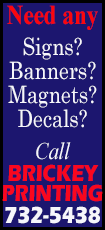 The Rosetta Stone band played the evening out under cooler skies brought on by a few sprinkles and a short-light rain that had occurred earlier.

The kids enjoyed a bounce house and obstacle course hosted by Farmers Bank, and some other games with prizes.

A Mount Pulaski Grade School contest of colored drawings of the Mount Pulaski Historic Courthouse was held in the courthouse. This year's MPGS 3rd graders continued the on-going fund-raising by that class-year for the repair and maintenance of the courthouse, which now has raised over $25,000 during this two-year drive.

Tours were provided both in the Courthouse and Township Historical Museum across the street, where free sacks of freshly-made popcorn were handed out.

Old-fashioned wagon rides pulled by a team of horses provided by KEL Productions continued throughout the evening.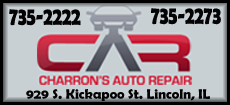 Abraham Lincoln re-enactor, Randy Duncan, was on hand to relate some of Lincoln's life as a circuit rider during the mid-1800's. He and others brought the court of law to 15 county seats in the Illinois 8th Judicial Circuit. Randy also revealed some of the influence these small communities had on Lincoln. Randy was on hand later to answer questions about Mr. Lincoln and how it was to grow up during those years.

John Schlitt was born in Lincoln, but shortly thereafter, his family moved to Mount Pulaski where he grew up, played sports, and excelled in academics and music. Schlitt began singing and showing interest in music from a very young age. When he was 13 years old, he joined a band called Vinegar Hills Hometown Band Something Different. After graduating from high school, Schlitt enrolled at the U of I, with the intention of majoring in Civil Engineering. However, his main interest remained in music. In 1972, he joined a rock band; Head East, as lead singer with some U of I classmates. Balancing his music and studies, Schlitt finally graduated from college in 1974 and dedicated himself full-time to his career in music.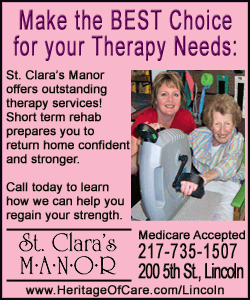 After some successful but tumultuous years with Head East and then his own failed band, Johnny, Schlitt was asked to audition for a Christian Rock Band, Petra. He soon replaced Petra's lead singer, Greg. X. Volz; who had left to pursue a solo career. He sang his first show on February 3, 1986, beginning a career that would span nearly two decades. During his career with Petra, the band released 2 RIAA certified Gold albums and earned 4 Grammy and numerous Dove awards. His travels and performances with the group reached all 50 states of America as well as over 35 countries. Early on, John married his hometown sweetheart, Dorla Froelich, who helped him from "going over the edge" by getting him to join her in a "born-again" Christian modality.

John has been inducted into the Gospel Music Hall of Fame as the lead singer of Petra. John Schlitt was recently named the best rock singer in Christian music history by GospelMusicChannel.com. According to the website, John Schlitt "remains one of the most distinctive and impactful men to ever stand behind a microphone."

John began his Friday-evening performance by reminding us that "we are all Prodigal Sons" ... that we just need to let Jesus enter into or remain in our lives. He sang song after song from his Petra Albums and from some of his recently-produced work that he and Petra guitarist and founder, Bob Hartman have recently released in an album together: II Guys from Petra.
[Text received; PHIL BERTONI]