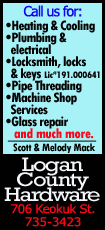 The 56-year-old Lincoln native graduated from Lincoln Community High School in 1976. He then enlisted and spent three years in the Army. Returning home he attended Lincoln College, then went on to study at Sangamon State University in Springfield There he received his undergraduate degree in 1982. He later earned his Juris Doctor in 1988 from Southern Illinois University.
Workmanís legal career includes two years with the Logan County Public Defenderís office as an investigator, and nine months with the local probation office, before attending Southern.
Mr. Workman's swearing-in ceremony will be held at 3:30 p.m. on Friday, July 11 at the McLean County Law and Justice Center, 104 W. Front St., Bloomington, IL in Courtroom 5A with a reception to follow.
[Text received; WILLIAM G. WORKMAN]