If only these walls could talk
Historic Preservation Commission offers home history worshop


Send a link to a friend Share
[July 10, 2014] LINCOLN - Have you ever wondered who built your home? How many families have lived there and their names? Did anything significant or exciting happen at your home?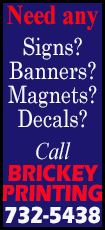 Wouldn't it be great if you could attend a free workshop to learn how to research your home's history? The Lincoln Historic Preservation Commission (HPC) is planning exactly that.

If enough homeowners are interested, the Commission will schedule a workshop event that will be given by experts presenting information to walk you through the research process. Information such as where to find historical documents, how to read abstracts, etc.

If you are interested in attending a fall workshop such as this, please contact April Doolin with the Historic Preservation Commission at llhpc@cityoflincoln-il.gov or call the city zoning office's number 732-6318.
[Text received; APRIL DOOLIN, CITY OF LINCOLN HISTORIC PRESERVATION COMMISSION]