Visitation: None
Graveside Service: Pleasant Valley Cemetery, northeast of Middletown, Tuesday at 11:00 a.m..
Funeral home: Holland Barry & Bennett Funeral Home
Obituary
Ruth Ann Hoffert, 73, of Middletown, IL passed away at her home on Tuesday, July 8, 2014, surrounded by loving family.

Ruth Ann was born on July 8, 1941 in Middletown, a daughter of Richard Raymond and Mabel Ruth (Wilson) Skelton. She married Ernest F. Hoffert on November 8, 1959 in Lincoln, IL. He survives, as does a daughter, Sheila (Jim) Bradburn of Lincoln and a son, Brian (Wendy) Hoffert of Mason City. Also surviving are five grandchildren, Jason (Amanda) Bradburn, Chris (Anita) Bradburn, Nicke Jo Bradburn, James Jeffery Bradburn, Chad (Jallisa Tisdale) Hoffert, two step grandchildren, Scooter Horath and Annie Horath, sixteen great grandchildren, nine step grandchildren, and one great-great grandchild.

Other survivors include four brothers, Dick (Debbie) Skelton, Billy Dale Skelton, Tim (Judy) Skelton, and Rusty (Stacie) Skelton, and eight sisters, Jenny (Harold) Stout, Jackie Poole, Carol Renfro, Cheryl Himes, Sharon Marcum, Debbie (Bub) Frakes, Syb (Joe) Liesman, and Kelly (Rick) Hoffert.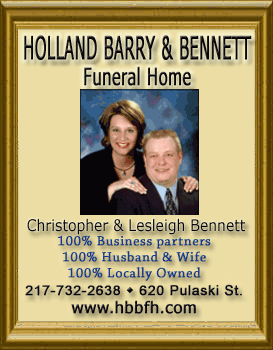 She was preceded in death by her father, one grandson, Kyle Hoffert, three bothers, Jerry, David, and Joe Skelton, and three sisters, Patsy, Kasey, and Deany.
Ruth Ann worked at Eaton Corporation and drove a school bus for First Student. She was a member of the American Legion Auxiliary of Middletown.

Creamation rites have been accorded. Graveside services will be held at Pleasant Valley Cemetery, northeast of Middletown, on Tuesday, July 15, 2014, at 11:00 a.m.. Pastor Curt McCallister of the Mason City Community Chapel will officiate.

Memorials may be made to the family in care of Middletown State Bank.
Click here to send a note of condolence to the Hoffert family.