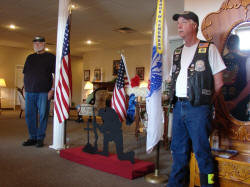 Patriot Guard escort veteran McCray home
Send a link to a friend Share
[July 26, 2014] LINCOLN - When Lincoln resident Michael McCray died unexpectedly in California recently, his sons, who he had been visiting, were tasked with returning their father's remains to his home town. They wanted to honor their father and acknowledge his service in the United States Army and his two tours in Viet Nam.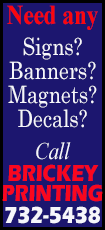 They contacted both the California and Illinois chapters of the Patriot Guard to help out. The Patriot Guard is a national volunteer organization of more than 200,000 members who provide escorts for deceased veterans, and those who have given their all for their country in combat. They provide an honor guard at funerals and accompany the deceased and family to the cemetery. The Patriot Guard's motto is "Standing for Those Who Stood for Us."

In the case of Mr. McCray, the Patriot Guard accompanied his remains from the California funeral home to the airport where his casket was to be transported by air to Illinois. Holland Barry and Bennett Funeral Home arranged for Mr. McCray's casket to be brought from the airport to their Lincoln funeral home.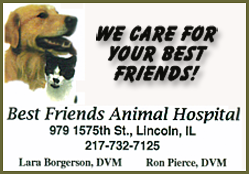 The Illinois chapter of the Patriot Guard arrived at the funeral home at the request of Mr. McCray's family to honor his memory, and show respect for his family and our community. Members stood at attention inside the funeral home at a special display with the American flag. The rest of the contingent from Region 4 of the Illinois Patriot Guard stood at attention outside amid a mass display of the stars and stripes.

When it was time to accompany Mr. McCray to his final resting place, the Patriot Guard members, most of who were on motorcycles festooned with flags, provided an escort. There were approximately a dozen motorcycles from the group in the contingent, all of whom volunteer for this solemn duty.

The Guard members in Mr. McCray's cortege were from all over central Illinois, some from as far away as Danville and Charleston.

Funeral director Chris Bennett, a Marine Corp veteran, said "I can't say enough good about the Patriot Guard. This was our first experience with them. They went so far as to decorate the cemetery plot with a display of flags."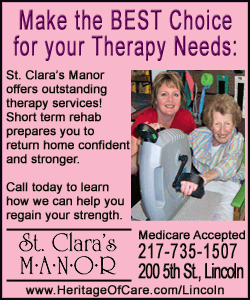 Rick Daily, from Georgetown, is the Senior Ride Captain for the local region of the Illinois Patriot Guard. "We attend over 150 funerals in central Illinois a year, and at times have travelled to Indiana and Missouri to honor our veterans. This was our first time in Lincoln," he said. Kevin and Cathy Page, Bloomington residents, drive the support vehicle that accompanies the motorcycles.

Daily said the Patriot Guard members also organize events at the Veterans Hospital in Danville including cookouts. The Guard also attends the deployment of troops and welcomes them home. They also attend Honor Flights.

The Patriot Guard attends funerals only at the invitation of the family. Funeral director Lesleigh Bennett said, "The funeral home can arrange for a Patriot Guard escort if the family of the deceased asks us to."

For more information on the Patriot Guard check their website for the national organization at www.patriotguard.org The Illinois chapter website is www.ilpatriotguard.com
[By CURT FOX]