By Relay starting time, the weather had completely cleared and the event took place outside once again this year. As the evening progressed, clouds began to gather, but the rain stayed away. Though it may have been hard to see the stars in the sky, there were plenty of stars to see in the shape of the crowd that gathered to participate in this year's 'Relay' event.

As teams were busy setting up their tents and makeshift homes for the night, volunteers rushed to set out the luminaries. Others were working hard at getting live and silent auction items put out for display, and inside Lincoln Center folks were signing in for the night, and some were still purchasing luminaries.

As the clock struck 6 p.m. the host for the evening, John Guzzardo, announced they were going to start the event on time.

Guzzardo's first introduction for the night was Pastor Robert Long, who offered a prayer of thanksgiving on the evening. Long is also a six-year cancer survivor. As Pastor Long said his closing "Amen" Guzzardo commented remembering that it was six years at a 'Together for Lincoln' meeting that Long had shared that he had cancer. Guzzardo said, "The preachers there brought him (Long) up on stage and prayed for him. There are miracles folks, and he is one of them."

After the prayer, American Legion Post 263 of Lincoln came forward to present the nation's colors while Debbie Ross sang the "National Anthem."

Next up were this year's Relay for Life Co-chairs, Trenton Crawford and Kathleen Brumbaugh. Crawford began with a few welcoming statements. Then Brumbaugh added her statements as well, saying, "While each of us has a unique reason for being here, we all have something in common. We want to make a difference in the fight against cancer."

Crawford also commented on his own commitment to the Relay for Life and the team of high school students he had brought to the Relay. "For me bringing them together to do something that is bigger than themselves, and to fight for something that means so much to me and them as well really means a lot to us. As kids, we have grandparents, relatives, aunts, uncles, parents, brothers and sisters that are all somehow affected by this, and we want to make a difference too."

When Guzzardo returned to the microphone he introduced the honorary co-chairs for this year; Nancy Reese and Nicole Bottrell.

Reese stood and told the group that when she had her operation for cancer, she was 38 years old, and this year she is a 38-year survivor.

Guzzardo read biographies from each of the honorary chairs.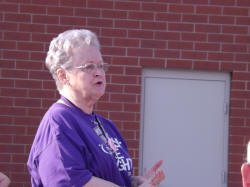 He read Reese's document, saying her breast cancer diagnosis came in 1976, when she had two surgeries, and several months of chemotherapy. At the time, she had children in a wide range of ages that needed her. She and her husband spent Independence Day that year in the hospital, watching fireworks out the window of her room. Her mother took early retirement from her job and dedicated herself to helping see the family through this trying time. Reese said in her biography she was thankful to be with the Relay for Life on this night, and thankful she was able to celebrate 38 years of being a survivor.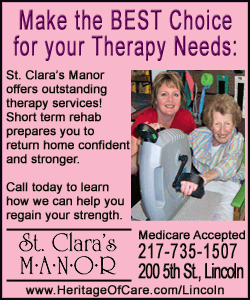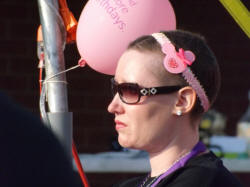 Nicole Bottrell's biography came next. As Guzzardo read it, the group heard that Bottrell has an incurable cancer and will take chemotherapy the rest of her life just to keep it under control. Bottrell said in her bio that both her grandmother and mother had breast cancer, and she knew it would eventually come to her as well. However, Bottrell was much younger than she had ever thought she would be when cancer came.
She had hopes that like her mother and grandmother, she would have surgery and chemotherapy and be better, but, unfortunately, it would not be that simple for Nicole. Her cancer is referred to as inflammatory breast cancer, which quickly spread throughout her body.

She spoke about the family that surrounded her, and her mother who was with her when she heard the worst of her news. She ended her biography saying, "My cancer will never be gone, but it is stabilized. I must get chemo every three weeks for life, but it won't make me sick. This (cancer) is a lifelong battle for me, but with my support systems I can endure everything. Cancer can't keep this girl down."

Guzzardo then called for the Survivor's Lap. All the participating cancer survivors gathered under the red, white, and blue American Cancer Society Archway. While Lesleigh Bennett sang a moving rendition of "I hope you dance" the survivors made their way around the track with all those on the sidelines clapping and cheering. Bennett also sang "Go light your world."

The second lap of the night was the Caregiver Lap. In this lap the caregivers who have stood beside the loved ones and helped them through their bad and good days walked a lap with their survivors. As they made their lap Sheralyn Bolton sang, "I'll stand by you." Bolton also sang Bruno Mars' "Count on me."
For the third lap Guzzardo said he was going to take the liberty of changing the rules a little. The lap was designated for children ages 10 and under, but Guzzardo wanted everyone 16 and under. He called out the Railer Man, the LCHS youth team, and all the kids in the audience. As the young people gathered and made their lap around the track, Lauren Hill sang "Everyone is beautiful" and "Happy."

When the young people had finished, Guzzardo called for all Relay teams to start the Team Lap. As he called off the names, teams took their spot under the arch and began their lap.

When all the special laps were completed, Guzzardo called for everyone to come together and take the 'everyone' lap while Jennifer Keith ready the Fight Back statement.

For the rest of the night there would be team members circling the track. There would also be special events going on such as a live auction conducted by local auctioneer Mike Maske. There would be a silent auction, dancing, games, and much more.

Guzzardo also announced that beginning around 7:30 p.m. pizza deliveries would be coming to the Relay. He said the local pizzerias including Sorrento's, Dominos, Stuffed Aria, and Guzzardo's would be donating pizza's to be sold with 100 percent of the proceeds going to Relay for Life.

After dark in the glow of the luminary bags, Bill Post would carefully read off the names of those being remembered by a luminary and those who placed their name on the bag.

When day began to break, the group would then celebrate with a morning donut and coffee lap, the launching of the balloons and a prayer of hope for a cancer free future for everyone.
[By NILA SMITH]