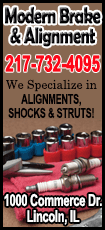 Conductor Harry Hild began the evening with the traditional salute to America with "The Star-Spangled Banner", then provided background on each of the pieces throughout the program, among them: "Ascentium, Beach Boys Classics, That Old Time Religion, The Great All-American Dixie-Swing March, Colonel Bogey, Footloose, Seventy-six Trombones and the finale, God Bless America." Bruce Dubre, all the way from Glenarm, provided the trombone background to "That Old Time Religion," which, related Hild, was one of many pieces produced by the Salvation Army during its many years of activity on the streets and in the town halls of America.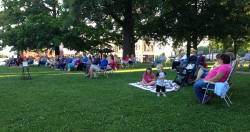 "The Colonel Bogey March," explained Hild, was written at the outbreak of WWI by Lieutenant F. J. Ricketts, a British Army bandmaster, who got the inspiration of its catchy melody from a golfer who liked to whistle a descending two-note warning of an errant golf ball shot instead of today's customary shout of "fore". Since Ricketts was in service of his country, he needed to publish the piece under a pseudonym, Kenneth Alford, since no British serviceman could make civilian money outside of his military duty assignment. As we know today, "bogey" refers to one over par, which begets another interesting story of how the two references got connected.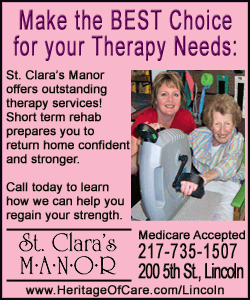 An additional highlight was the performance of the trombone trio of Bruce Dubre, Casey Fisher, and Derek Phillips with their rendition of "Lassus Trombone." The members of the band are made up of musicians from Mount Pulaski and from various towns in Logan County and elsewhere, as was pointed out above of Dubre from Glenarm, south of Springfield ... Mount Pulaski: Jennifer Wernsing, Linda Dirks, Cheryl Poffenbarger, John Hebenstreit, Jerry Theobald, Dennis Stoll, Don McCain, Derek Phillips, Sam VanRheeden, and Rita Remmert; elsewhere: Miranda Yard, Shaylyn Inselmann, Molly Williams, Gus Pflugmacher, Aaron Durchholz, Hank Hafercamp, Bruce Dubre, Caey Fisher, Linda Storm, Harold Drake, and Warren Smith. Conductor, Harry Hild, is a born-and-raised Mount Pulaskian.
[By PHIL BERTONI]