LCGHS acquires Main Street Lincoln Christmas ornament inventory; limited quantities of each year are available
Send a link to a friend Share
[July 29, 2014] LINCOLN - In 1999, Main Street Lincoln introduced ornaments with an image of the current Logan County courthouse, opened in 1905. That ornament was first in a series of 12, which were produced until 2010.
Locations highlighted were (in order by year): Lincoln City Hall; Lincoln Public Library; Abraham Lincoln Memorial Hospital (Eighth Street); the christening site on Broadway Street (where Abraham Lincoln christened the fledgling town with watermelon juice); University Hall, Lincoln College; 3D Logan County courthouse; Earl Hargrove Chapel, Lincoln Christian University; Arcade façade, downtown Lincoln; second Logan County courthouse in Lincoln, 1858-1903; first Logan County courthouse in Lincoln, 1854-1857; Lincoln Woman's Club.

Through the generosity of Main Street Lincoln, Logan County Genealogical & Historical Society (LCGHS) has obtained the inventory of ornaments and is re-introducing the project with a 2014 ornament to commemorate Logan County's 175th birthday. The new ornament will be an image of Logan County, with communities and significant dates (1839-2014) included. The ornament committee is waiting for a preliminary design, hopes to share the image by mid-August, and present them for sale by early September.

Because Main Street's focus was the city of Lincoln, it chose landmark buildings important to that community. LCGHS has a different purpose, gathering information from, and promoting the histories of all towns, villages and rural areas across Logan County. In keeping with that mission, the LCGHS ornament committee will have a long list of sites and buildings to choose from, for future images.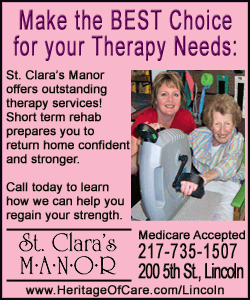 A selection from each year of the original series is now available at Logan County Genealogical and Historical Society, 114 N. Chicago, Lincoln. Each ornament is in its original gift box or envelope, and sells for $15. Ornaments must be paid for (cash or check) at the time of pick up, and will not be reserved over the phone. Items are first-come/first-serve.
LCGHS volunteers are available to assist visitors with ornaments, genealogy research, cemetery records and Logan County history information on Tuesday, Thursday and Friday, 11 a.m. to 4 p.m., and the second & fourth Saturday of each month, 10 a.m. to 1 p.m. Phone 217-732-3200. Please call to make arrangements for a time more convenient for your schedule.
[Text received; MARLA BLAIR, LOGAN COUNTY GENEALOGICAL AND HISTORICAL SOCIETY]