U of I News:
Extension offers Master Naturalists volunteer training
Send a link to a friend Share
[July 28, 2014] LINCOLN/LOGAN COUNTY - The University of Illinois Extension Logan-Menard-Sangamon Unit is accepting applications for the fifth class of Master Naturalists. Training will begin in late August and go through October.
Classes are held on Wednesday's. Optional Saturday field trips will be scheduled for hands-on training. Trainees study the ecology of forests and grasslands, streams and wetlands. They get hands-on experience as they learn about plants and insects, frogs, toads and snakes, birds and mammals. And they gain an appreciation of the physical and human context of our environment through sessions on anthropology and environmental ethics.

The Extension's Logan-Menard-Sangamon Unit offers the program in partnership with Lincoln Memorial Garden, Illinois Audubon Society at Adams Wildlife Sanctuary, the Friends of the Sangamon Valley and Logan County Park and Trails- Kickapoo Creek Park. Affiliates are Star Hill Forest Arboretum and the Illinois Native Plant Society Central Chapter.
The program is designed to train participants in natural resources through a combination of science-based education and volunteer service. With the help of local experts, the Extension provides educational support, while the partners offer opportunities for volunteer service.
Master Naturalists must contribute 60 hours of volunteer service the first year and 30 volunteer hours each of the following years the volunteer is in the program.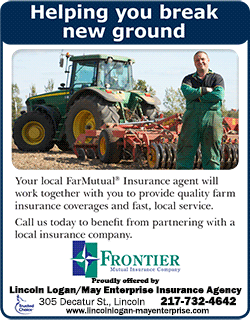 A $200 fee covers classroom sessions and field training, handouts, and the Master Naturalist manual. Applications are due by July 29. For more information on the schedule, and application, contact the Extension Office at 217-782-4617. If a special accommodation is needed to attend, please note that when registering.
[Text received; JENNIFER FISHBURN, HORTICULTURE EDUCATOR, UNIVERSITY OF ILLINOIS EXTENSION]