On Tuesday, July 15th, six young people gathered at the Logan County Extension office before Judge Rachel Grunder, and offered a demonstration of how to prepare a specific dish.

The first person up was Miriam Carter, who prepared "California Sushi Roll." Carter's demonstration included a step by step procedure on the product with the result being a freshly made sushi, which she served to the judge and Patty Huffer of the extension.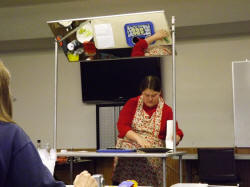 During her presentation, she talked about what type of rice is best for sushi, and the rolling technique using a rolling mat. She also shared the history of sushi and explained the different types of sushi and how they came about.

When Miriam finished her presentation, she was given a blue award. Grunder commented saying she appreciated the information Miriam had provided about the history of the dish. The judge also appreciated that Miriam had been diligent in keeping her work area and hands clean during the demonstration.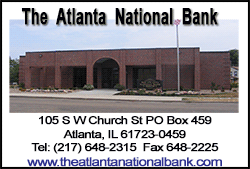 Miriam's dish ingredients included cooked rice, cooked shrimp, avocado, cucumber, and seaweed wrap.

Daniel Crider was the next one up. Daniel was among the youngest participants and after he was finished, admitted he was a bit nervous about his presentation. His demonstration was on how to make your own Instant Mexican Cocoa Mix.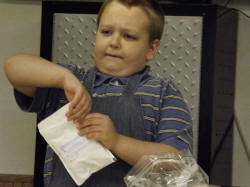 Daniel talked about the variation to the basic recipe. Making the mix 'Mexican" involved incorporating cinnamon into the mix. He discussed measuring techniques and shared that when measuring using a cup, it is wise to use a knife to level the ingredients at the top of the cup.

He spoke about the health benefits of cocoa used in his recipe saying cocoa is lower in fat content than prepared chocolate and contains anti-oxidants that help prevent cancer. He also shared that cocoa comes from beans grown on trees in the rain forest. In addition, Daniel shared that cinnamon has been used as a medicine for centuries, will help lower blood sugar for diabetics, reduces cholesterol, and helps fight fungal infections.

At the end of his presentation, Daniel served prepared drinks to Grunder and Huffer and was awarded a blue ribbon. Grunder commented on the presentation that Daniel had done a very nice job. She said he had been engaging and fun to watch.

The ingredients in Daniels mix included non-fat dry milk, cocoa, sugar and cinnamon.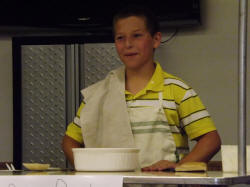 Cavit Schempp may have been the one to steal the show as far as recipes were concerned. He came to the table explaining that he was going to make Candy Bar Dessert.

Cavit's ingredients included whipped topping, dry vanilla pudding mix, diced apples, and chopped up candy bars.

Schempp said this dessert is a family favorite, and when it goes to a family gathering the dish always comes home empty.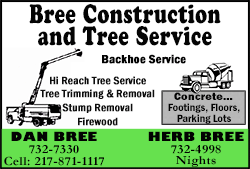 When he was cutting his candy bars, he advised that the bars should be cut into very small pieces to benefit smaller children and "the grandparents."

Cavit offered a cooking tip talking about the use of a spatula for clean scrapping of bowls. He also discussed the apples saying the fruit is good for students as it helps them with their studying and comprehension. He noted they were a fruit with their own saying "An apple a day keeps the doctor away."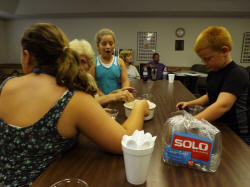 Because Cavit's dessert is best after it has been chilled, he presented a completed dish he had prepared at home. With two full dishes of dessert, he offered up full-size servings to everyone in the room. Just like at his family gatherings, the dishes went home empty.

During comments, the judge said she could see he had rehearsed very well as he was completely organized. She also commented on a special chopper he used for his apples, and said she would like to have known a little more about it as he was preparing his fruit. Otherwise, this presentation was excellent, and he received a blue ribbon as reward.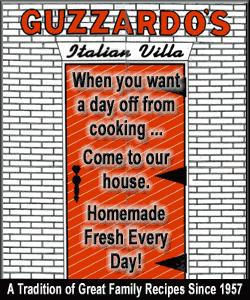 Cavit's sister Molly Schempp was the fourth exhibitor of the day. Her demonstration focused on food presentation as she showed how to make "Cake in a Jar" for festive occasions such as birthday parties. She had three pre-make jars decorated with paper doilies and ribbon.
For her demonstration, she adapted the process to be cake in a cup. Using pre-made cakes, she demonstrating using a ruler to measure one-inch squares of cake accurately. Placing three pieces of cake in askew in the bottom of the cup she then offered a money saving tip for applying frosting. She explained that to apply ribbons of frosting neatly, she didn't need to use an expensive piping tool. She demonstrated how to place the frosting in a self-closing bag, cut off one small corner, the pipe the frosting into the cup.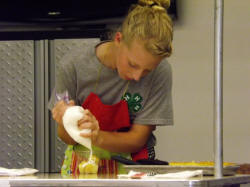 Molly created three versions of her cake in a cup using three flavors of cake and a variety of toppings including fresh strawberries and marshmallow fluff. In her discussions, she addressed maintaining portion sizes. She also talked about adding festive touches to the product using decorative items such as the paper doilies and ribbon.

Molly was also a blue ribbon winner. During her commentary, Grunder said Molly had a winning personality and smile that served her well and would continue to in the future. She quipped, "You're going to be a star!"

The judge also appreciated Molly's discussion on using a ruler to get exact portion sizes for her presentation.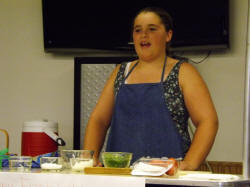 The next blue ribbon went to Mary Carlock and her easy fresh salsa. Mary's recipe included tomato, onion, cilantro, sugar and vinegar. Mary brought her onion pre-diced but demonstrated the proper cutting for a diced tomato. She also gave instruction on how to chop the cilantro and warned that one should be careful not to start with too big a batch when chopping.

She explained that because the salsa is best if allowed to sit for at least an hour, she had brought one batch she made at home for the judge to sample. Mary served the salsa with tortilla chips.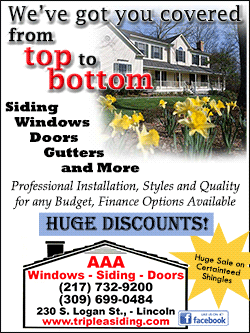 Grunder praised Mary for offering good advice on chopping the cilantro and said she had done a very good job with her demonstration.

Jasmine Bottom was the last person to go to the demonstration table. As one of the youngest participants, she chose to give a demonstration on making brownies from a box mix. She cautioned that before starting, one should be sure to have all the proper utensils and all the right ingredients. She also stressed that if using a mix, follow the directions that are provided.

She emphasized that mixing completely is important, and to be sure that the eggs are properly incorporated into the mix.

She drew chuckles from the audience when she introduced them to "My little friend, Mr. Scraper." Jasmine discussed using a spatula to clean the sides of the mixing bowl when pouring the mix into the baking pan.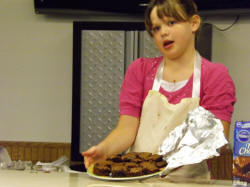 Jasmine had brought a plate of brownies she prepared at home for the judge to sample. There were enough servings to go all around the room, so everyone got to enjoy Jasmine's efforts.

During the judge's comments, Grunder said she thought Jasmine had done a good job, but in spite of help from Mr. Scraper she had been just a little messy. Grunder pointed out brownie batter on Jasmine's apron.

Grunder told Jasmine that she might consider making brownies from scratch in the future. The little girl once again drew a laugh from everyone when she explained that she had "been baking cakes and brownies all my life from a mix."

The food demonstrations were done in front of an audience, standing at a special table with a mirror suspended overhead. This enabled the judge and the audience to watch the food preparation from a vantage point quite similar to the cook.

Each demonstrator was allowed up to 15 minutes for their presentation and all six finished within their allotted amount of time.

This 4-H event is not State Fair eligible, so there were no state fair alternates given out at the end of the day.

[By NILA SMITH]