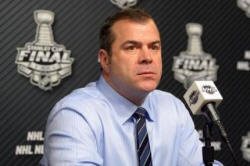 Rangers need more 'A' games against Kings, says Vigneault
Send a link to a friend Share
[June 06, 2014] By Mark Lamport-Stokes

LOS ANGELES (Reuters) - New York Rangers head coach Alain Vigneault has urged his players to step up for Saturday's Game Two of the Stanley Cup Finals after goalie Henrik Lundqvist was one of the few bright spots in their series-opening loss.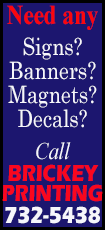 Lundqvist made 40 saves and almost single-handedly kept his team in Wednesday's Game One after they failed to build on a strong start against the Los Angeles Kings, jumping to a 2-0 lead before falling 3-2 in overtime.

"One thing that's real evident to me, and it should be to our whole group, is we're not going to beat this team if we do not all bring our 'A' game," Vigneault told reporters at his team's hotel on the Santa Monica beach front on Thursday.

"It is that strong of an opponent that we're playing against. We had (Lundqvist) that brought his 'A' game last night. We had a couple guys. I don't want to name who I think brought their 'A' game.

"But our 'B' game won't do it. We're not going to win if we bring our 'B' game to the table. They're one of the best teams I've seen in a long time. Areas to exploit, they don't jump out at you. We're going to have to be better than we were."


The Rangers, back in the Stanley Cup Finals for the first time since winning the coveted trophy in 1994, were totally outplayed by the Kings during the third period and relied on Lundqvist's brilliance as they were outshot 20-3.

"I thought our first 40 (minutes) was good," said Vigneault. "Both teams were battling real hard. I'm not quite sure yet what happened in the third. I haven't sat down with our players yet to discuss it.

"But obviously our game in the third wasn't good enough. (The Kings) had a real strong push. (Lundqvist) was the reason why we went to overtime. We're going to have to be a lot better than we were.

"When we played Game Six against Montreal, each and every player brought his 'A' game. It's not an easy thing to do. But against this opponent, I do believe our expectations are to win, got to find a way to do it."

Underdogs New York beat the Montreal Canadiens in six games to claim the Eastern Conference crown, clinching the title with a 1-0 win on a goal by Dominic Moore.

ULTRA-COMPETITIVE APPROACH

For much of the postseason, though, Lundqvist has been an inspirational force for New York with his superb netminding and athleticism allied to an ultra-competitive approach to the game.

"He's incredibly competitive and an incredibly hard worker and the way that he prepares and practices is through the roof in terms of what I have played with before," Moore told Reuters.

[to top of second column]
"And that's why when there are big moments, it's seems amazing what he does but it's all the work he has put in and the competitive drive that he brings to the game and that's what makes him special.
"In playoff hockey, the margins are so small and we are obviously lucky to have him."

Rangers center Derek Stepan, who played the last two games of the East finals with a broken jaw, also identified Lundqvist's competitive streak as one of his biggest assets.

"Henrik is passionate about the game and he competes as much as he can," Stepan told Reuters. "Obviously he is an unbelievable goaltender because he's got the skill-set but his compete level is very high.

"And I don't think it's any different for the best players in the world."

Lundqvist, 32, has long been considered one of the best in the puck-stopping business, taking Vezina Trophy honors as the NHL's top netminder in 2012 and backstopping Sweden to a gold medal at the 2006 Turin Olympics.

Nicknamed 'King Henrik,' the Swede won a silver medal at this year's Olympics in Sochi and has allowed 42 goals with a .928 save percentage for the Rangers this postseason.

(Editing by Frank Pingue)
[© 2014 Thomson Reuters. All rights reserved.]
Copyright 2014 Reuters. All rights reserved. This material may not be published, broadcast, rewritten or redistributed.