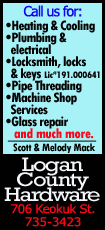 The special service will be held in the lot directly behind the Legion builind.

The public is invited to attend and view the proper manner of retiring our nationís flage with it is no longer serviceable.

With Saturday being National Flag Day, this is a more than appropriate time to hold such a service.

The Legion encourages everyone including youth and Scout Troops to come out and witness the ceremony of the flag retirement.
[Text received; Bob Sullivan; American Legion Post # 263]