Park district notes
From Roy Logan, program coordinator
Send a link to a friend Share
[June 11, 2014] We are now offering a Woodworking Class. Dave Boyd will be our lead carpenter for the woodworking adventure. Dave has been building wood toys and crafts for several years. Just in time for Fathers Day we will be finishing a special wood gift for Dad. We will also be painting another wood project that is for that special woman in your life. Who would that be you ask? You Mom of course!! Save Friday morning, June 13 beginning at 8:30 to join us. Cost is $20/$23 and everything is included. We suggest wearing old clothes because we'll be painting. Register early to be sure you can get a spot at the workbench. Ages 9 & up!
Indoor Tennis Lessons

Indoor Tennis Lessons will start on Monday, June 16th and end on Friday. Whether you have never played tennis or you play at an intermediate level, register to play this summer. Lessons are divided by the school grade our participant will be entering this fall. K – 2nd grade will be from 9:00 – 9:45 a.m., 3rd – 5th is 10:00 – 10:45 and 6th and up are from 11:00 – 11:45. Cost is $40.00/$46.00 Njeri and her daughter Kena return as our instructors following a very successful early spring lesson program. This mother/daughter duo are very accomplished players and enjoy sharing their passion for the game with others.
Theater Camp

Jump-start your imagination with this week-long Theater Camp, Putting on a Play. Your week will be filled with improvisations, fun theater games and warm-ups as well as arts, crafts and a busy rehearsal schedule. Youg actors and actresses will have the chance to put on a performance for their families and friends on Friday, the final day of our camp. Bring your sack lunch. You'll have to be at the park district all day just to have enough time for this much fun! Tegan Follis and Kendall Katz will be our directors this year. We welcome them to the park district and look forward to them sharing their talents with us. Both of them have a long history of being on the stage or even behind the scenes working on sets and the technical aspects of a performance. Tegan and Kendall are sophomores in college majoring in theater. Join us June 16 – 20th from 9:00 – 4:00 p.m. We'll meet in the administration building and this is designed for ages 6 and up. Cost for the week is $75.00/$86.00
Syndicated Cartooning

Come learn about the world of one of the most unusual occupations – Syndicated Cartooning. Tour guide and advisor for the class is Julie Larson, a Lincoln native. She is a nationally syndicated cartoonist and creator of the Dinette Set. Larson has been in the Funny Business since 1989, becoming nationally syndicated in 1997.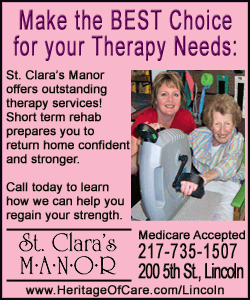 Ms. Larson will share creative development of your comic ideas, the artistic mechanical individual drawing process and style. Character development and dialogs along with an introduction to the business of writing and drawing a daily and Sunday cartoon will be covered. Drawing materials will be provided and kept by the participants. Aspiring cartoonists must bring their own imaginations! We are looking for young people entering 6th grade. Join us on Monday, June 23 – Wednesday, June 25th class will run from 9:00 – 11:00 a.m. Cost is $45.00/$54.00
Golf Lessons

Golf Lessons are being offered again. The purpose of this year's clinic is to focus on proper technique, etiquette, rules and sportsmanship. Various drills, instructional techniques and educational offerings will be tailored to golfers of all ages and skill levels. Monday through Thursday will be on our Driving Range. Friday's lesson will culminate with a golf outing to Four Willows Golf Course in Mason City. Included will be 9 holes of golf and a cookout for the participants. In the event of inclement weather we will move to the indoor tennis courts. Instructing this year's golf clinic will be Jeff Nelson. His previous golf coaching experience includes Boys Asst. Coach at LCHS, Women's Head Coach at LC. Join Jeff at the Driving Range beginning Monday, June 23 from 8:30 a.m – 10:00 a.m.. Golfers should be ages 9 through adults and possess their own clubs. Cost is $80.00/$90.00
[Text from file received from Roy Logan, Lincoln Park District]