Logan County Tourism Bureau Is working on Rebranding
Send a link to a friend Share
[June 11, 2014] LINCOLN - The Abraham Lincoln Tourism Bureau of Logan County has been busy at work in 2014 on many projects. One of the biggest and most important has been to clearly define the role of the Tourism Bureau and how to best serve Logan County. "After the process with the UOC (United Organizations Committee) it became obvious what our role is—to market Logan County to the world", said Andy Anderson, President of the Tourism Bureau.
The next step in the process of defining the Bureau was creating a brand that guests to Logan County and potential guests would be drawn to and could identify with. After interviews with a couple of marketing firms that specialize in branding, the Bureau decided on DCC Marketing out of Decatur, IL. Jean Bruner Jachino and Tom O'Donohue were appointed by the board of directors to take the lead on this initiative with DCC Marketing. The following is a recap of the work that has been done thus far and what the areas they are focusing on.

"We are hoping the results of our work will drive the rebranding of the region and define measurements of success." said O'Donohue. O'Donohue said the new brand is meant to highlight the destination of Lincoln/Logan County region, not the Tourism Bureau itself.

In the first meeting with the consultant company discussions were had around the topics on the culture and tourism of Lincoln/Logan County (i.e. warm, inviting, positive energy, historic, potential); and the desire for the look and feel of the new brand. Examples: fun yet professional, inviting and memorable, and highlighting the unique flair of the area.
The group focused on some of the great features of our area: Lincoln Logan County is the hub of Central Illinois, nestled 30 minutes away from almost every metropolitan center of Central
Illinois. Lincoln/Logan County is a relaxing getaway in nature with the nostalgic flair of the Midwest.

The group also discussed Logan County's features that set us apart for other areas that DCC considers to be "Logan County's current top draws for tourism": Route 66, Abraham Lincoln Heritage, Museum, Covered Wagon, Walk where he walked, Festivals including the Lincoln Art & Balloon Festival, and Mt. Pulaski's Christmas Festival to name a few.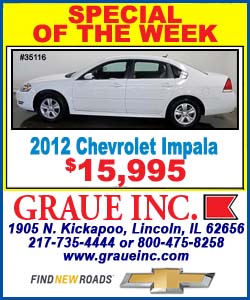 They identified areas in which tourists miss: Downtowns – Old-fashioned shopping districts, foodie eateries, weekends – leisure travel.

The following indicators were identified to drive the measurement of success for the rebranding and promotion of Lincoln Logan County: Attracting more sporting events, increasing tours and tour bus groups, growing occupancy in hotels and bed & breakfasts, and the need to focus on both historical and economic drivers.
In May DCC supplied Bruner Jachino and O'Donohue with naming recommendations and logo design drafts. DCC took feedback from the two Tourism reps and are now making final changes on the designs. The Tourism board is anticipating voting between two to three proposed new logos at the last meeting of the board in June.

In July key stakeholders in the community will be invited to attend a focus group planning session run by DCC to help them better understand Logan County and the needs of our community. This next step will help DCC in creating an overall branding initiative including an ongoing marking plan.

O'Donohue stated that creating a unified brand for Logan County was an initiative that came out of the first meeting of the UOC with the consultant. "It was crystal clear to us what our mission is. The UOC process has helped us become very focused which has driven every decision we've made since that process in February."
[Text received: ABRAHAM LINCOLN TOURISM BUREAU OF LOGAN COUNTY]