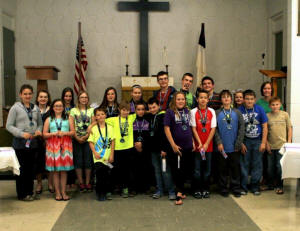 Aqua Lynx Swim Club holds annual awards banquet
Send a link to a friend Share
[June 12, 2014] LINCOLN - On Friday, May 16, 2014, Aqua Lynx Swim Club held their annual awards banquet. Parents, swimmers, coaches, board members and guests were present and enjoyed a wonderful dinner and time of fellowship.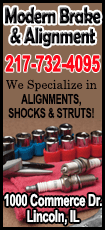 The awards were presented by Coach Cassie Rennick. After 7 years of coaching swimmers had to say a sad good-bye and good luck to Cassie as she transitioned to a new job with the Department of Corrections in February. The club is excited to announce the addition of two new coaches, Emily Hauter ad Nicole Hoinacki. Emily is a Lincoln, native and swam with the club under the name of Lincoln Gators as well as under the current club name, Aqua Lynx. She swam at SIU Carbondale on a swim scholarship prior to joining the coaching staff. Nicole grew up in the Bourbonnais area and swam with the Bourbonnais Swim Club as well as doing some lifeguarding. The club is very pleased to have both coaches and look forward to the new ideas and perspectives each will bring to the club. The club also looks forward to continuing to build on current relationship with the Lincoln College Swim Team and coaching staff.
This year was a successful building year for the team with many new faces and many swimmers participating in swim meets for the first time. While the club is based in Lincoln, it is open to swimmers from the surrounding areas, and currently has swimmers from Mount Pulaski, Sherman/Williamsville, and Mason City as well as Lincoln. Aqua Lynx also offers a summer introductory program called "Summer Splash" for any student interested in knowing more about competitive swimming. This year's program runs from June 2 through July 10th. For more info please stop by the Lincoln College Natatorium Monday through Thursday from 5:30 p.m. to 7:00 p.m.
Awards were presented this year in several different categories. The MVP for this past season was Alex Downing. Celebrating his success as a Regional qualifier was Joe Dalpoas. This year's Aqua Woman was Alena Reed and Aqua Man was Taylor Hoinacki. The girls' most motivating swimmer was Ashley Schmidt, and the boys' most motivating was Jake Curry. The most improved swimmer this season was Warren Tomzack.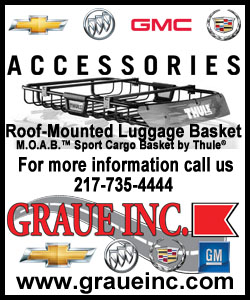 Several Aqua Lynx team records were broken this past season in the following categories:
8 and under 100 Freestyle Relay
Brenden Heitzig, Zach Entwistle, Frank Rolewicz, and Kenton Oltmanns

10 and under Boys 200 Freestyle Relay
Jake Curry, Gavin Holsapple, Murphy Roate,
and James Rolewicz

12 and under Boys 200 Freestyle Relay
Logan Warfel, Mitch Rolewicz, Nick Knoedler,
and Joe Dalpoas

12 and under Boys 200 Medley Relay
Logan Warfel, Mitch Rolewicz, Nick Knoedler, and Joe Dalpoas

13-14 Boys 400 Freestyle Relay
Alex Downing, Taylor Hoinacki, Joe Dalpoas, and Karson Bonaparte

13-14 Boys 200 Backstroke
Alex Downing
13-14 Boys 1650 Freestyle
Alex Downing

Overall, it was a very successful year and the Aqua Lynx board wishes to thank all its sponsors, swimmers, coaches, parents and friends for making that possible. For more information about Aqua Lynx, please visit our website at www.aqualynxswimclub.com or send any inquiries to Aqua Lynx Swim Club, P.O. Box 602, Lincoln, IL 62656.
[Text received; DEBBIE KNOEDLER, SECRETARY, AQUA LYNX CLUB]