Postville Courthouse first Illinois Historic Site recognized in Route 66 Hall of Fame
Shirley Bartlemay recognized for Courthouse's success
Send a link to a friend Share
[June 20, 2014] LINCOLN - This past weekend, Logan County was all about Route 66. On Friday the Route 66 garage sales began and ran through Sunday. Saturday in Atlanta the Route 66 Rides and Ribs brought in large crowds as folks came with their vintage cars to enjoy a day in the small community, and take advantage of some excellent food. In Lincoln, the Illinois Route 66 Association stopped on their annual trek on the Mother Road from St. Louis to Chicago.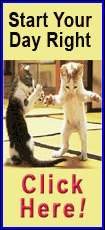 Saturday evening the association enjoyed an evening together at Lincoln College where they held their annual Hall of Fame Banquet.

This year the event held special meaning for Logan County as the Postville Courthouse was one of three locations added to the Illinois Route 66 Association's Hall of Fame.

The Postville Courthouse has the added distinction of being the first ever State Historic Site to be inducted into the Association's Hall of Fame.

A plaque commemorating the induction was accepted by Stu Churchill who is the current volunteer director of the courthouse. Display space will be afforded to the courthouse in the Illinois Route 66 Museum located in Pontiac.

During the presentation of the award, John Miller of the Association read an abbreviated history of the courthouse relating its strong connection to Abraham Lincoln. He also gave an account of the sale of the original courthouse to the Henry Ford Museum in Dearborn Michigan, and talked about the rebuilding of the current replica on the original site in the 1950's.

Churchill took the podium to accept the award and thank the Association for the recognition. He spoke briefly giving all the credit for the success of the courthouse as a local tourist attraction to former site director Shirley Bartlemay.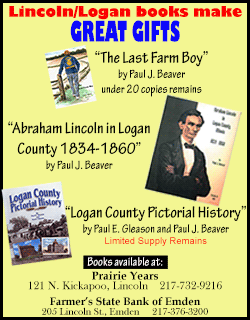 He noted that Shirley devoted endless hours to getting volunteers to help keep the courthouse doors open. Bartlemay planned events and attractions to bring more people to the courthouse on a regular basis.

The courthouse was nominated two years ago by the Abraham Lincoln Tourism Bureau of Logan County.

Saturday evening the bureau was represented at the banquet by interim tourism director Robin McClallan, board member Tom O'Donohue; and by Kathy Vinyard who was there representing Mayor Keith Snyder and the city of Lincoln.

The bureau provided a "Come back again" gift basket filled with items intended to entice Route 66'ers to return to the community and explore all that is here. The basket was included among the many raffle items that were given away during the evening.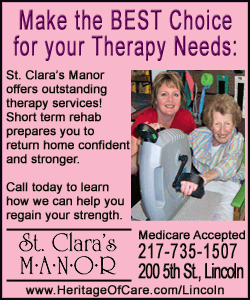 In addition, the city of Lincoln made arrangements for the Tropics sign to be brought out of storage and put on display in front of the Davidson-Sheffer gymnasium. With the arrival of the sign at approximately 6:30, many of the travelers came outside to take pictures of the sign and talk about their memories of the Tropics Coffee Shop.

During the dinner, O'Donohue shared an interesting story about the sign. Many locals know that of the two poles that supported the sign, one was set at a significant angle. The story goes that one post was supposed to be painted brown and set at an angle so that when the sign was mounted it looked like the trunk of the coconut tree that was part of the sign. When all was said and done though, it was discovered that the wrong post had been set at the angle, so the picture never quite came together as planned.

After all who wished to go out go out and see the sign had done so, it was taken back to its storage facility. The evening progressed with a buffet meal provided by chef Warren Wendlandt and his staff. At the end of the meal, attending Hall of Fame members were honored with a roll call and asked to come to the front of the room for the presentation of the new inductees.

This year's inductees to the Hall of Fame included Hi-Way Tavern in Edwardsville, Nelch and Son Concrete in Springfield, and the Postville Courthouse.

Over the years, a number of Logan County attractions have been inducted into the Hall of Fame. Logan County Route 66 Hall of Famers:

1990 – Ernie Edwards, Pig Hip Restaurant, Broadwell
2000 – Joe Edwards, Lincoln
2005 – Atlanta Public Library and Clock Tower, Atlanta
2009 – The Mill, Lincoln
2010 – Lewis "Zoo" Barrick, Lincoln
2013 – Palms Grill, Atlanta
2014 – Postville Courthouse, Lincoln
[By NILA SMITH]