Visitation: 4 to 7 p.m. Friday at the Fricke-Calvert- Schrader Funeral Home in Mount Pulaski.
Service: 10:00 a.m. Saturday at the Methodist Church in Mount Pulaski
Funeral home: Fricke-Calvert-Schrader, Mount Pulaski
Obituary
Sarah K. Jackson, 80, of Mount Pulaski passed from this life Saturday June 14, 2014 at St. John's Hospital, Springfield.

Sarah was born January 5, 1934 in Clinton, the youngest child of Claude W. and Louise Thorp. She attended Thorp School and graduated from Wapella High School in 1952. She married James R. Jackson in 1952 and they had four children: James Alan (Judi) of Kalamazoo, MI; Linda D. Stanfield (Rich) of Henderson, NV; Douglas K. (Janet, deceased) of Philo; and Katherine L. Boward (Dean, deceased) of Mount Pulaski.

Sarah was blessed with five grandchildren, Valerie Cooper (Alex) of Seattle, WA, Jaime Snyder (Rob) of Henderson NV, Matthew Stanfield (Mary Jane) of Las Vegas, NV, Bryan Jackson (fiancée Lindsey) of Sterling VA, and Hannah Boward of Mount Pulaski. She had four great-grandchildren, Owen and Esther Cooper and Chase and Gage Snyder. She was preceded in death by her parents, a half brother Carl Thorp, and half sisters Evelyn Thorp and Mary Alice Moberly. Surviving are her brother, Ernest Thorp (Helen) of Clinton, Andrea Miller (Phillip, deceased) of Winston-Salem, NC, Ruth Lutz (Elmer, deceased) of Dewey, and Norma Wedekind (Gerald) of Raymond.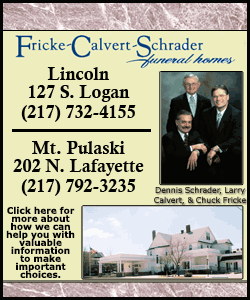 Sarah was a loving wife, mother, and homemaker who also worked at various jobs during her life. Family and church were always important to Sarah. She attended Prairie Center Methodist Church in her youth and became a member of Mount Pulaski First United Methodist Church. Sarah was very active in her children's activities as a room mother, Cub and Girl Scout leader, Sunday School teacher and "taxi" driver. Sarah had several lifelong passions: she loved to bake and try new recipes. She was an active gardener and could always find room for another plant. She loved and cared for her pets and strays. She liked to shop and collect a variety of things. She was a breast cancer survivor. She is now in the care of her Savior and with friends and family who have passed.

Funeral services will be held at 10:00 a.m. on Saturday, June 21 at the Methodist Church in Mount Pulaski, with Pastor Rachel Stockle officiating. Burial will be in Woodlawn Cemetery, Clinton. Visitation will be from 4 –7 p.m. on Friday June 20 at the Fricke –Calvert- Schrader Funeral Home in Mount Pulaski.

In lieu of flowers, memorials may be made to the Mount Pulaski First United Methodist Church, the Logan County Humane Society, or to the donor's choice.

Click here to send a note of condolence to the Jackson family.