U.S. soy supply seen at 37-year low, plantings hit record
Send a link to a friend Share
[June 28, 2014] By Karl Plume

CHICAGO (Reuters) - Relentless demand from exporters and processors likely thinned U.S. soybean stocks by June 1 to the lowest since the 1970s, but farmers have responded by planting their largest-ever soy crop this season, analysts expect government data to show on Monday.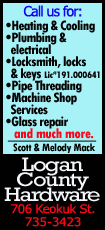 The U.S. Agriculture Department's (USDA) annual acreage and quarterly grain stocks reports, scheduled for release at 11:00 a.m. CDT (1600 GMT), will offer clues into how the government will update its supply and demand forecasts in mid-July.

Much market attention is focused on June 1 soybean stocks, with some analysts suggesting supplies are more abundant than initial USDA forecasts.

"Neither the futures market nor the cash market seems to be in a supply-panic mode so you have to assume that somewhere there must be more supplies," said Anne Frick, senior oilseeds analyst with Jefferies Bache in New York.
On average, analysts polled by Reuters estimated soy stocks at 378 million bushels, below the prior year's 435 million bushels and the lowest for June 1 in 37 years. But the unusually wide range of estimates from 334 million to 440 million bushels illustrates the level of market uncertainty, setting the table for a sharp price reaction on Monday.

A low stocks figure might trigger a rally in old-crop futures contracts on the Chicago Board of Trade that could crimp demand. Currently, export sales and domestic processing are poised to exceed the government's full-season forecast.

Soybean imports, meanwhile, have not arrived fast enough to meet demand.

A high stocks estimate would suggest that last autumn's crop or leftover stocks from the previous season were undercounted. The next USDA update of those figures is on Sept. 30. In the meantime it will account for the supply discrepancy on its balance sheet by reporting a negative residual-use figure, analysts said.

Analysts projected June 1 corn stocks at 3.722 billion bushels, 35 percent above a year earlier and the largest in four years. Wheat stocks were seen at a six-year low of 598 million bushels, 17 percent below last June.

[to top of second column]
ACREAGE UPDATE

High soybean prices relative to corn have prompted farmers to plant record soybean acreage. Generally favorable weather has allowed U.S. farmers to plant more corn and beans than initial government forecasts in March.

"For the first time in the last three to four years, beans are economically viable to plant. They compete heads-up with corn," said Dale Durchholz, an analyst with Agrivisor in Bloomington, Illinois. "I think the bean acres can still grow."

Major seed companies Monsanto Co, DuPont Pioneer and Bayer CropScience Ltd have all reported drops in corn seed sales and increases in soybean seed sales in their most recent quarterly results.

Farmers were expected to have planted 91.726 million acres of corn, a four-year low, and 82.154 million acres of soybeans, according to analysts polled by Reuters.

(Reporting by Karl Plume and Julie Ingwersen. Editing by Andre Grenon)
[© 2014 Thomson Reuters. All rights reserved.]
Copyright 2014 Reuters. All rights reserved. This material may not be published, broadcast, rewritten or redistributed.