Visitation: Wednesday, 9 a.m. to 11 a.m.; two hours prior to the service at the church.
Service: 11:00 a.m. Wednesday at the United Methodist Church in Lincoln
Funeral home: Fricke-Calvert-Schrader, Lincoln
Obituary
Lowell "Bud" Petty, 87, passed away at 10:00 p.m. on June 26, 2014 at the Christian Village in Lincoln, IL.
Bud was born on February 6, 1927 in Lincoln, IL son of John and Nova Petty. He married Norma Thompson in 1948. She preceded him in death in 1981. He married Jacqueline Brannan of Lincoln on January 1, 1982. She survives him in Lincoln.
He was raised in the Odd Fellows Children's Home from an early age until he enlisted in the US Naval Reserve at the age of 17. He finished high school and went on active duty in WW II at the age 18. As an officer in the reserve he was again called to active duty in the Korean Conflict.
He was a member of the United Methodist Church in Lincoln for over 60 years, the American Legion, where he served in the Legion Band and Honor Guard after WW II, the Odd Fellows Lodge, Masonic Lodge, Ansar Shrine Temple, Life member at the Elks Lodge, and the Barbers Union for 40 years, he was barber in Lincoln for 40 years as well, Trustee of Chester Township where he served 20 years as supervisor, a Boy Scout Leader for many years, and was a part time bailiff in the Logan County Courthouse.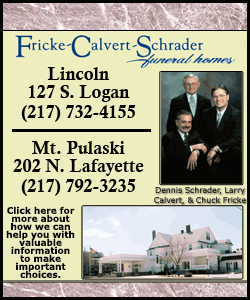 Also surviving is one son: David (Tina) Petty of Lincoln; one brother: Huie Petty of Lancaster, PA. Bud was preceded in death by his parents and four brothers: Harold, William, Jim, and Forrest Petty.
Services for Bud will be at 11:00 a.m. July 2, 2014 at United Methodist Church in Lincoln with Pastor Michael Paulson officiating. Visitation will be from 9-11 a.m. July 2, 2014, two hours prior to the service. Burial at Zion Cemetery will be held at a later date where full military rites will be accorded. Memorials may be given to Elks Crippled Children, American Diabetes Association, or American Heart Association.
Services have been entrusted to Fricke-Calvert-Schrader Funeral Home in Lincoln
Click here to send a note of condolence to the Petty family.