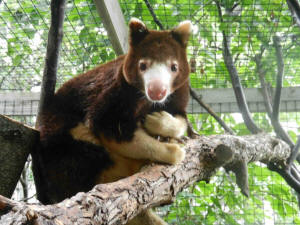 Three new species on exhibit at Miller Park Zoo

Send a link to a friend Share
[June 28, 2014] BLOOMINGTON – The Miller Park Zoo announces three new species on exhibit; Matschie's Tree Kangaroo, Green Woodhoopoe and Tammar Wallaby.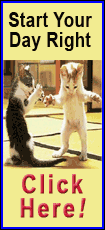 For the first time in Miller Park Zoo history, a Matschie's Tree Kangaroo will be on exhibit. Found only in Papua New Guinea, Matschie's Tree Kangaroo is a member of the kangaroo family that spends a great deal of time in trees. The Matschie's Tree Kangaroo is an endangered species whose population is declining due to habitat loss and overhunting. The kangaroo joining Miller Park Zoo is named Roger Paul and can be seen on exhibit near the Red Wolves.
Primarily found in the islands around Australia, the Tammar Wallaby is one of the smallest wallaby species and is the only known land mammal to be able to survive on salt water for a limited basis. The Tammar Wallaby breeding program (SSP) is coordinated out of Miller Park Zoo, and six Tammar Wallaby have been imported from New Zealand to add new bloodlines to the North American breeding program. The Tammar Wallaby are now on exhibit with the Common Wallaby in the Wallaby Walkabout. Three of the six recently added Tammar Wallabies will be moving to another zoo in the fall.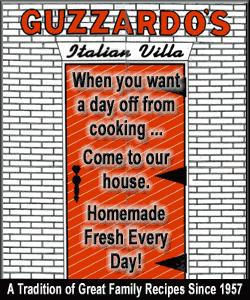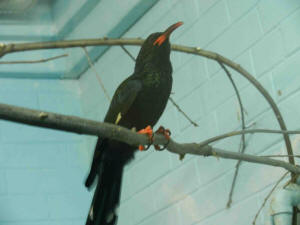 A family of Green Whoodhoopoe is now on exhibit at the Zoo. The Green Whoodhoopoe is a tropical bird native to Africa, in the same family as the Kookaburra. A family consisting of a group of parents and three offspring are on exhibit in the Kathoeffer Animal Building in the former Eurasian Red Squirrel Exhibit (Squirrel is now in exhibit near Bald Eagles).

For more information contact Jay Tetzloff at Miller Park Zoo, 309-434-2250, or the Bloomington Parks, Recreation and Cultural Arts Department, 309-434-2260.
[Text received; MILLER PARK ZOO]