Park district notes
From Roy Logan, program coordinator
Send a link to a friend Share
[February 28, 2014] Tennis Lessons will be offered this winter on our indoor courts. Njeri Bere and her daughter Kena will be our instructors. Players will be divided by age divisions. Lessons are tailored for the beginners to intermediate skill levels. Instruction includes drills focusing on forehand and backhand, lobbing, drop shots as well as basic instruction on serve and strategy. Instruction will be on Sunday afternoons beginning March 9 and will be for four weeks. K- 2nd Grade will be from 1:30 to 2:15, 3rd – 5th Grade 2:30 – 3:30 and 6th – 8th Grade 3:30 – 4:30 p.m. There will be a minimum of four students for each session or sessions may be combined. Cost is $40.00/$48.00 per participant.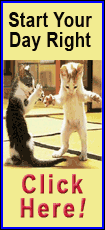 Jacki has added another day to our Fit for Seniors schedule. Join this active and social group at 9:45 on Monday, Wednesday, Thursday and Friday for a great 45 minute workout. This class will focus on increasing mobility, flexibility, balance and muscular strength and endurance. In conjunction with the class, The Christian Village offers free Blood Pressure checks on the first and third Wednesday's of the month. A member of their staff is here from 9:00 a.m. to 10:00 a.m. Blood Pressure checks are available to any one who is interested in knowing what their numbers are.

We have planned another series of Art Workshops for Beginners featuring Jody Phillips as our instructor. Jody is a local artist and will be offering classes for adults and children. If you enjoy painting or would like to try painting a picture for the first time, then treat yourself to an Art Class! These workshops are designed for kids and adults to have fun while creating. No experience is needed and all materials are provided. Adult and high school age participants will be on Saturday, March 22 beginning at 1:00 p.m. Jody is offering a landscape painting, perhaps with a country theme. Youth classes will be on Sunday afternoon, with Kindergarten through 2nd grades from 1:00 – 2:00. Young people in third through 8th grades will be from 2:30 – 4:00 p.m. Jody encourages everyone to wear old clothes just in case paint gets on them. Cost for these make and take projects are $35/$42 for adults and high school ages. The grade school ages will be $20/$24.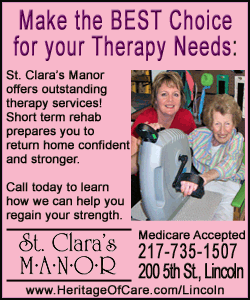 The Community Health Fair is Saturday, March 29 from 9:00 a.m. to 1:00 p.m. This FREE event will be here at the Park District, our co-sponsor the Logan County Department of Public Health will be here to welcome you. There will be over 60 booths to visit all offering health and safety information. Many screenings will be offered and a few of those will have very small charges attached to them. Along with CICBC's blood drive there will be many opportunities to recycle a number of things. New this year will be a 65 foot inflatable obstacle course, story time, cooking demonstrations, children's crafts and more! As the date gets closer more specific information will be released.


Boy's Baseball and Girl's Softball registrations are tentatively scheduled to start March 3 through April 7. Registrations will take place here at the administrative offices.
[Text from file received from Roy Logan, Lincoln Park District]