Mount Pulaski pickup dates for landscape waste, Oasis Lunch & Learn, Mardi Gras at St. John


Send a link to a friend Share
[March 04, 2014] City of Mount Pulaski announces pickup dates for landscape waste
MOUNT PULASKI — The city of Mount Pulaski has announced this year's schedule for landscape waste pickup. Pickup days will be as follows: April 7, May 5, June 2, July 7, Aug. 4, Sept. 8, Oct. 6, Nov. 3 and Dec. 1.
---

Oasis Lunch & Learn March 18
Area Agency on Aging for Lincolnland announces program for family caregivers
SPRINGFIELD — The Area Agency on Aging for Lincolnland has scheduled a Lunch and Learn program for informal caregivers of older adults and for grandparents and other relatives raising children. It will be at the Oasis Center at St. John United Church of Christ, 204 Seventh St. in Lincoln, on Tuesday, March 18, at noon.
Christa McCarthy, career agent with Transamerica, will present "46 Decisions You Need to Know When a Loved One Dies."
Lunch will be provided, and preregistration is required. There is no charge to attend.
This presentation is part of a series of Lunch and Learn programs. The goal of the series is to provide practical information that will help caregivers continue to provide quality care to others while maintaining balance in their own lives.
Informal caregivers are those unpaid individuals such as family members, friends and neighbors who provide assistance to someone who is to some degree incapacitated and in need of help with tasks such as grocery shopping, bill paying, cooking, or personal care. Grandparents or other relatives raising grandchildren are those who have accepted primary responsibility for raising one or more children through age 18.
To register or learn more about the Lunch and Learn series, contact the Area Agency on Aging for Lincolnland at 217-787-9234 or 800-252-2918.
---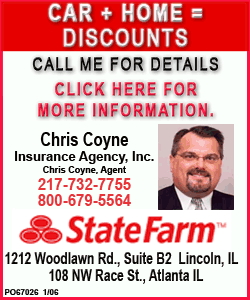 ---

Mardi Gras Chocolate Fiesta at St. John United Church on Tuesday
St. John United Church of Christ in Lincoln invites the public to celebrate Mardi Gras with them from 11 a.m. to 6 p.m. Tuesday, March 4, at the church.
Featured will be two chocolate fountains with fruit, pretzels, marshmallows and more to dip. Chili will be served for lunch and dinner (chocolate chili optional). Also available will be hot chocolate, chocolate milk, a variety of chocolate items to sample and a children's table to make chocolate creations.
There will be a cake walk at 12:30 and 4:30 p.m. and bingo with chocolate prizes at 1 p.m., 3 p.m. and 5 p.m.
A donation to Relay For Life or the Oasis Senior Center for the new roof gets you in the door for everything.
All activities and food will be in the Fellowship Hall of the church, 204 Seventh St., at the corner of Eighth and Maple streets in Lincoln.
---